by Dr Wumi Akintide
Contributor – Ayo Dada MaTaZ ArIsInG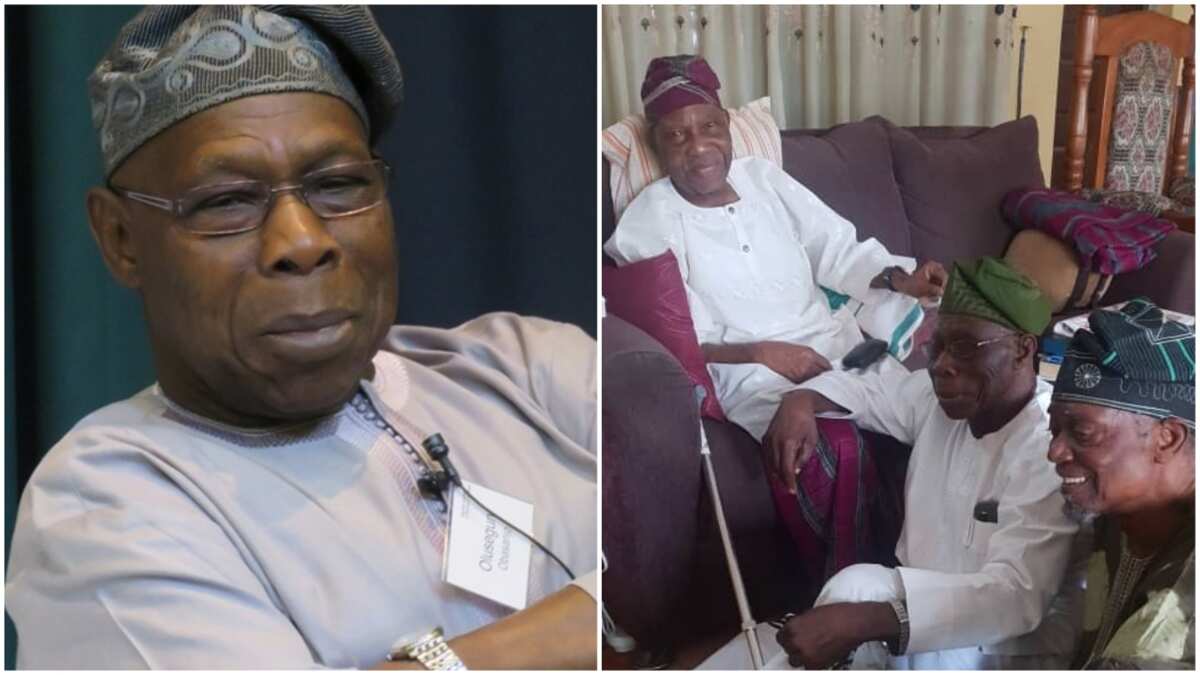 Whatever anyone says about Matthew Aremu Olusegun Okikiolu Obasanjo, he would, till his death remain a constant factor in the Nigerian Equation but more so in Yoruba Politics, as one of the distinguished sons of Oodua despite all of his human failings like the rest of us.
Former President Obasanjo found time to visit the close to century old Akure longest-serving Community Leader and current leader of the Afenifere Cultural Group in Nigeria Pa Reuben Fasoranti for his 95th birthday on September 24, 2020. It also coincided with the completion of the Pa Fasonranti's book on his life and legacies.
At a time most Nigerians could kill to be elected Governor or President, Chief Reuben Famuyide Fasoranti of Akure is the first Nigerian and the first Yoruba man to be nominated by his Party to become the Governor of Ondo State on a platter of gold, but he voluntarily turned down the offer and passed on the chance to his fellow colleague and political associate from Akoko in late Governor Adebayo Adefarati of Akungba. The amazing Chief had just lost his wife and best friend of more than 40 years  and was not going to rush into partisan politics while still mourning the death of his beloved wife.Only a few Nigerians can do what the Chief has done and I have the greatest respect for him for that.
President Obasanjo as a Yoruba leader who did it again. He visited the new Oonirisa in his Enuwa Palace at Ile Ife following his coronation. Obasanjo is old enough to be the father of the new Oonirisa, but he prostrated  for the new revered Yoruba monarch in public view. That was something that Ahmed Bola Tinubu, the self acclaimed Jagaban of Lagos felt tooo big to do as he sat down to shake hands with the Arole Oodua Okirikiribiti Jigbini bi Ate Akun Olori Alade Gbogbo"at a public function in Lagos.
General Obasanjo has pulled it off again, this time around, he found it necessary and has therefore found time out of his busy schedule to visit the Republic of Benin to see their president.
An online newspaper, The Cable, on Saturday, reported that former President Olusegun Obasanjo travelled to Benin Republic to discuss Yoruba Nation agitator, Mr Sunday Adeyemo, popularly called Sunday Igboho, with the Beninoise leader, Patrice Talon. He rerouted to Benin Republic," the newspaper quoted one of the sources to have said. 
Obasanjo, a man who never forgets good deed done to him, visited with former President Soglo who recently lost his wife to condole with him. Soglo is one of the African leaders who intervened at the time the Abacha regime arrested and jailed Obasanjo in 1995. 
According to the newspaper, another source who was also privy to Obasanjo's trip said that President Obasanjo also met with Patrice Talon. The purpose of the meeting was to ask the Beninoise authorities to grant the self determination activist asylum, and not to return him to Nigeria. 
I doff my hat to the former President and I recommend that the Yoruba forget and forgive some of his missteps, to let them unite to fight the common enemy of Yoruba people. In my humble opinion, the Yorubas need Obasanjo as much as, or if not more than Obasanjo needs the Yorubas in their pursuit of restructuring the country, a referendum, to get to where we need to be in the power configuration of Nigeria, or as a last resort or self determination.
I rest my case.
LATEST POSTS
SUBSCRIBE TO OUR NEWSLETTER NOW
TEXT AD: To advertise here – Email ad@matazarising.com