The ruling All Progressives Congress (APC) has postponed its Mega Youth Rally as rumours surrounding the alleged poor health status of Bola Ahmed Tinubu continue.
Reports in the media have it that Tinubu was rushed off stage at the party's presidential rally in Niger State on Wednesday allegedly due to ill-health.
In a statement by the National Youth Mobilisation Directorate of the APC Tinubu-Kashim Shettima Presidential Campaign Council (PCC), obtained by this newspaper and dated Thursday, December 15, 2022, APC youth members are told to watch out for a new date.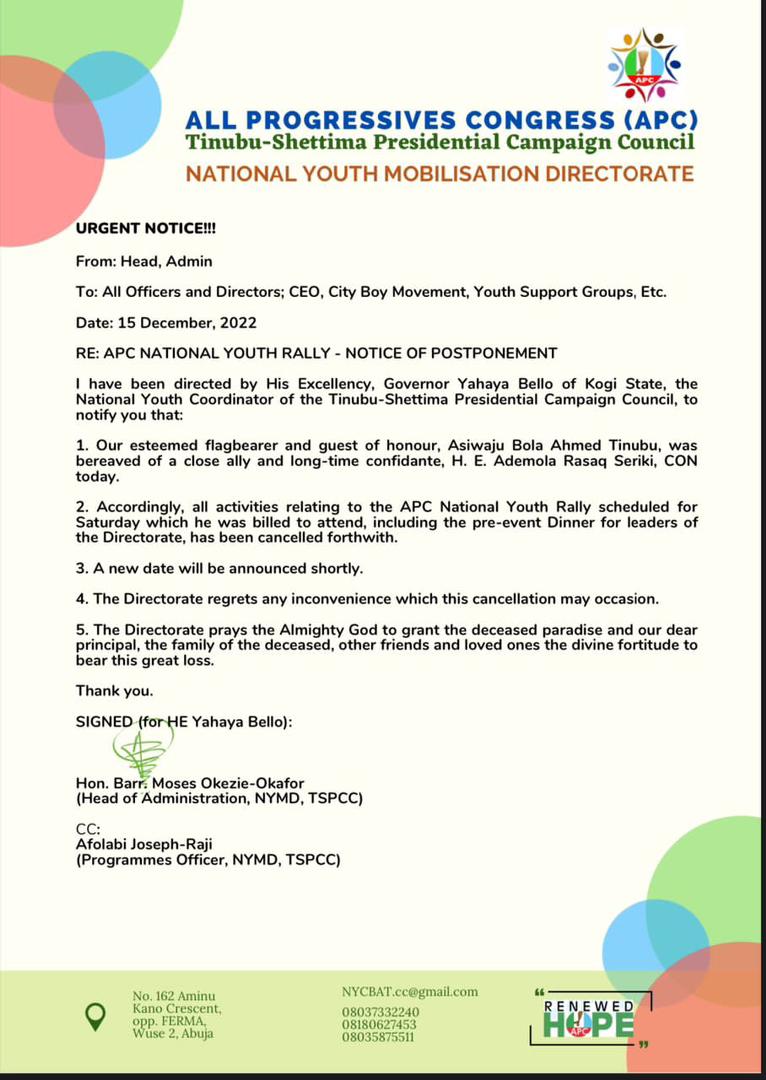 The statement said Governor Yahaya Bello of Kogi State, who is the National Youth Coordinator of the Tinubu-Shettima PCC, directed that the Saturday rally be rescheduled.
It cited Thursday's death of Ademola Seriki, an ally of the APC candidate who is Nigeria's Ambassador to Spain, as one of the reasons for the postponement.
---
LATEST POSTS
SUBSCRIBE TO OUR NEWSLETTER NOW
---
Support MATAZ ARISING' journalism of integrity and credibility.
Good journalism ensure the possibility of a good society, an accountable democracy, and a transparent government.
We ask you to consider making a modest support to this noble endeavour.
TEXT AD: To advertise here – Email ad@matazarising.com