Igboho Not Sick, Release Unconditional – Prof Akintoye
---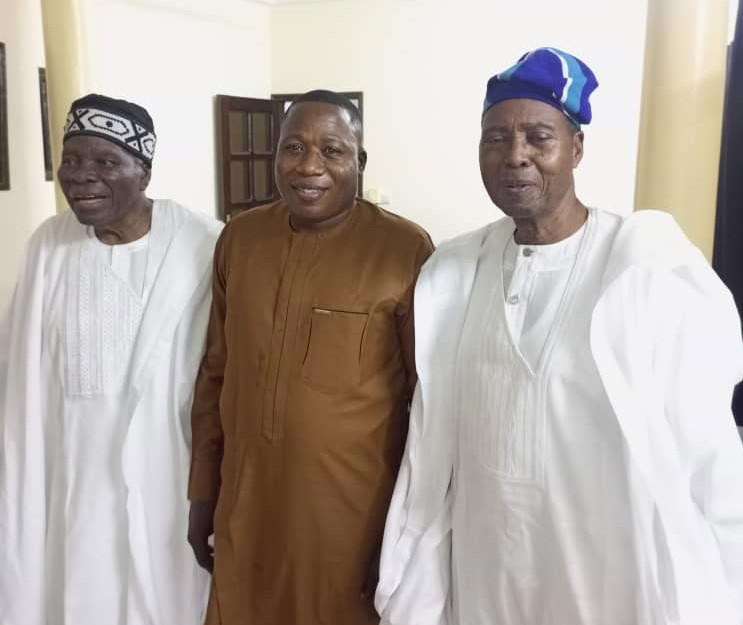 According to the Alana of Ilana Omo Oodua Worldwide, Professor Banji Akintoye while speaking during an online programme on Monday 07 March 2022, obtained by MaTaZ ArIsInG, Chief Sunday Adeyemo popularly called, "Sunday Igboho Oosa" a campaigner for Yoruba self-determination, was arrested in neighbouring Cotonou, Benin Republic, while trying to travel to Germany on Monday 19 July 2021. "It wasn't up to 10 minutes after he was arrested that I and Professor Adeniran was informed of his arrest". We swung into action
immediately and called a Lawyer that we knew to proceed immediately and intervene. According to Professor Akintoye, it was already very dark in the evening at about 9pm when the lawyer was informed.
The lawyer was instructed to search for and intervene on behalf Chief Sunday Adeyemo. The lawyer and his staff went out and was able to locate where Chief Sunday Adeyemo was being held. He told those that arrested him that he was Chief Sunday Adeyemo's lawyer. This spontaneous legal intervention stopped the removal of Chief Sunday Adeyemo from Benin Republic to Nigeria that night as a helicopter was on standby to ferry him to Nigeria just like the IPOB leader, Maazi Nnamdi Kanu was mysteriously removed from Kenya to Nigeria.
Professor Akintoye said further that, their lawyer went to see Chief Sunday Adeyemo where he detained in the morning of Tuesday 20 July 2021. He was eventually taken to court and that was how the case started. Professor Akintoye said, 'we have been on this case ever since. Sunday did not commit any offence in Benin Republic. Some people peddled the lie that he had indeed used incorrect travel documents to enter Benin Republic, "this is a pure lie". "All his travelling documents were complete and genuine".
Professor Akintoye said, "we didn't know the reason for his arrest but it is now crystal clear that Nigeria's government was behind his unjust incarceration in Benin Republic.
The Emeritus Professor was full of praise and thanks to the Almighty God together with his Deputy, Professor Wale Adeniran. He said that Professor Adeniran and himself experienced a lot of challenges to ensure all the required legal, financial and logistical supports required were met. Professor was jokingly critical of those using Chief Sunday Igboho's name to collect money from the people towards his welfare and case.
Professor Akintoye was thankful that God helped him and Professor Wale Adeniran's good names, prestige, honour and constructive dialogue through diplomacy to secure the release of Chief Sunday Adeyemo.
Some people said Chief Sunday Adeyemo was released because on health ground. This is not true as he is hale and hearty. Professor Adeniran cuts in and said the reason why Chief Sunday Adeyemo was released was because of the tireless intervention of the Nobel Laureate, Professor Wole Soyinka and Professor Banji Akintoye. Professor Akintoye added that Chief Sunday Adeyemo was overjoyed and full of thanks. Chief Sunday Adeyemo said, "Baba you said you wouldn't leave Benin Republic until I am released and you didn't leave as promised". Professor Akintoye said, "I made a vow that I won't leave Benin Republic until my son that was arrested has been released to me.
The release of Chief Sunday Adeyemo will no doubt bring more momentum and positive frenzy to all of his teeming lovers around the world and those campaigning for an independent and sovereign Yoruba nation.
Sunday Igboho, was arrested in Cotonou, Benin Republic by security operatives in the West African country on July 18, 2021 as he was heading to Germany.
The Department of State Services (DSS) had earlier on in the year asked Igboho to turn himself to security officials as the agency confirmed it has launched a manhunt for the Yoruba nation agitation.
This was after the security agents raided his residence in Ibadan, Oyo state capital.
They also declared him wanted for allegedly stockpiling arms, an allegation he has since denied.
---
LATEST POSTS
SUBSCRIBE TO OUR NEWSLETTER NOW
TEXT AD: To advertise here – Email ad@matazarising.com