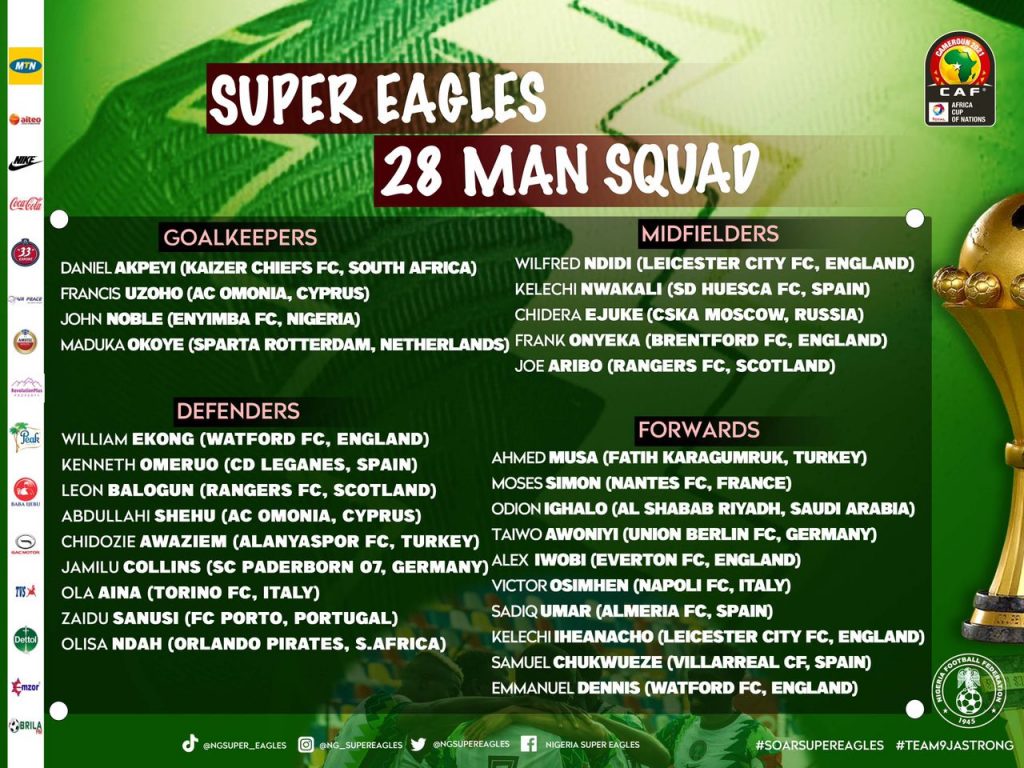 On Saturday (Christmas Day), after a long delay, the Nigeria Football Federation (NFF) finally released the Super Eagles squad for next year's Africa Cup of Nations.
Interim boss Austin Eguavoen named a 28-man squad for the party in Cameroon, and the usual suspects like Victor Osimhen, Leon Balogun, William-Troost Ekong and Wilfred Ndidi were all included.
Nigeria named a 28-man squad instead of 23 after CAF increased the number to allow participating teams to have replacements in place should there be positive coronavirus cases in the team.
But while the regulars were called-up, the list was not without controversy, with some names causing arguments among Nigerian football lovers.
As a result, Soccernet takes a look at some of the talking points from the list.
Eguavoen is the interim boss, but it is still Gernot Rohr's list 
The decision to sack Rohr was expected, but the timing was odd as it came just a month before the start of the tournament.
Following the German's dismissal, Eguavoen was brought in as interim boss, and there were doubts if he would name a different squad.
But before his dismissal, Rohr had told Soccernet in an interview that he had already sent a 40-man provisional list to CAF, which Eguavoen confirmed in a separate interview after the German was sacked.
And looking at the squad, it is clear to see that this is Rohr's squad, except for a few new names that were included.
This means there will be Rohr's influence in the team in Cameroon, even though tactics may be different.
Kelechi Nwakali's controversial selection
If Rohr had been in charge, Nwakali would have missed out. But with the German out, Nwakali got his call-up.
However, there are suggestions that Nwakali only got invited because some top NFF officials want him in the squad, and he is Eguavoen's boy.
It is hard to argue against these suggestions, considering the 23-year-old had not even played for the team before.
Nwakali is an attacking/creative midfielder, and while it may be true that the Super Eagles need someone in that mould, he has only gotten his call-up based on what he did at the U17 level six years ago.
The 23-year-old led the Golden Eaglets to the U17 World Cup in 2015, winning the golden ball in the process. But since then, his career has not moved to the next level.
Nwakali has had stints at Arsenal, VV Venlo and MVV Maastricht (twice), yet he has failed to take advantage of the opportunity.
He is currently at Huesca now, but before this season, he was struggling at the club, and they had to loan him out to Alcorcón for the second half of the last campaign.
The youngster has 18 league appearances for the side this season, but that should not have earned him a call-up to the Super Eagles team.
His reputation at the U17 level is what has earned him a spot in the team. It is now left for him to show he deserves it.
Noble's undeserved call-up
Like Nwakali, John Noble is another player whose place in the squad should be questioned. While Nwakali plays at Huesca, Noble has not played a game of football for Enyimba this season.
His inclusion once again shows that the team handlers do not watch the Nigeria Professional Football League (NPF) and only named him just to have a home-based player in the squad.
But while that is not a bad thing, it is disappointing that the spot has gone to a player not playing at his club, which is unfair on the players playing regularly.
Akpoguma may deserve a call-up, but so does Ndah
Hoffenheim star Kevin Akpoguma is one of the big names left out of the squad, but his omission has left many disappointed, who believed he should have been named instead of Olisa Ndah.
But while Akpoguma may have felt hard done by the decision to be left out, it is important to state that Ndah deserved his spot.
The 23-year-old's inclusion is proof that the NPFL has some very good players. Although he is currently at Orlando Pirates, Ndah played his football last season with champions Akwa United.
He was a key figure in Akwa's backline that conceded the least number of goals en route to winning the championship.
This season, he has been decent for Orlando Pirates, too, playing in 13 league games. His performances over the last two seasons justify his selection.
As for Akpoguma, he may be disappointed to have missed out, but this was the same guy that only decided to play for Nigeria just because he did not get his chance with Germany.
Will Eguavoen lead the team to Cameroon?
The list may be Eguavoen's squad, but it is still unclear if he will be in charge when the team starts their campaign on January 11.
NFF President Amaju Pinnick revealed last week that the body hopes to appoint a foreign coach to lead the team to Cameroon, which puts Eguavoen's position in doubt.
With this uncertainty surrounding the team's managerial position, the Super Eagles chances of winning a fourth continental title keep reducing.
Nonetheless, the three-time AFCON kings have a good squad capable of reaching the latter stages.
Culled from SOCCERNET
JOIN OUR MaTaZ ArIsInG COMMUNITY!
SUBSCRIBE TO OUR NEWSLETTER NOW
Our newsletter gives you access to a curated selection of the most important stories daily.

Eyewitness? Submit your stories now via:
Email: ad@matazarising.com
TEXT AD: To advertise here – Email ad@matazarising.com