By Basil Okoh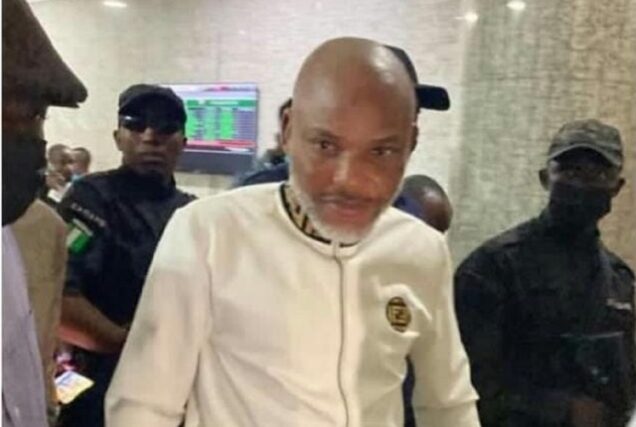 Not even during the 1976 Soweto Riots did the South African Police mobilize such fire power as the Nigeria Police have mobilized for the 2021 Governorship election in Anambra State. In imitation of the apartheid South African Police, the Nigeria Police are bringing three "platoons" of trained dogs.
Nnamdi Kanu is the man of power in Nigeria, the fact of his incarceration notwithstanding. No other man in Nigeria, not even the President Muhammadu Buhari has the drawing power of Nnamdi Kanu. And no other organization, not APC, not PDP has the capacity for mobilization as IPOB.
The people they represent and lead love and obey them. The youth are ready to die for them and are already dying for them. This is raw power. His dominance and commanding presence across five states of Igboland is unparalleled in Nigeria, no question.
To begin to understand how the fear of Nnamdi Kanu dominates the thoughts and actions of the Nigerian Government and it's security institutions, you have to first remember that Nnamdi Kanu is held in captivity, albeit illegally, by the Nigerian Government and has no freedom to take any action.
You also have to understand that despite the show of strong rhetorics in public, the Nigerian Government has been clandestinely sending delegations to him and his organization, begging to let the Anambra Governorship election hold.
Former Presidents of Nigeria, Bishops, local and International Agencies of influence have all been pleading the cause of Nigeria to Kanu and IPOB. It is obvious to all now that when Kanu makes a pronouncement, 20 million people across five states will obey him.
This is power that the Government of Nigeria does not have. Muhammadu Buhari cannot be assured of the loyalty of even a million Fulani.
It is time now for the Government to come down from its high horse, realize the futility of the incarceration of Nnamdi Kanu and sit down for negotiation with IPOB.
If you imagine the monetary, human and material cost of the security presence in Anambra for this governorship election, you'll begin to understand that Nigeria cannot afford all this grandstanding against IPOB. Nnamdi Kanu is growing bigger and more dangerous everyday.
@basilokoh.
Anambra Governorship Election:
Nigeria Police Force deploys 2 DIGs, 5 AIGs, 14 Commissioners of Police, 31 Deputy Commissioners of Police, 48 Assistant Commissioners of Police and 34,587 personnel made up of conventional police officers, Police Mobile Force (PMF), Counter Terrorism Unit (CTU), Special Forces personnel. Others are the Explosives Ordinance Unit (EOD), Force Intelligence Bureau (FIB), INTERPOL, Special Protection Unit (SPU), Police Medical Teams as well as the Police Airwing, the Force Marine and the Force Animal Branch.
NSCDC deploys 20,000 personnel, including NSCDC Arms Squad Unit, Counter-Terrorism Unit and Chemical, Biological, Radiological and Explosives Unit.
In addition, personnel from Kogi, Ekiti, Ondo and Benue have been placed on standby, in case there is the need for reinforcement.
FRSC deploys 1,500 Personnel, 35 Vehicles, 2 tow trucks and ambulances
Military Police deploys 300 Personnel with 3 helicopters, 6 gunboats and 5 speedboats.
JOIN OUR MaTaZ ArIsInG COMMUNITY!
SUBSCRIBE TO OUR NEWSLETTER NOW
Our newsletter gives you access to a curated selection of the most important stories daily.

Eyewitness? Submit your stories now via:
Email: ad@matazarising.com
TEXT AD: To advertise here – Email ad@matazarising.com