Dr. Wumi Akintide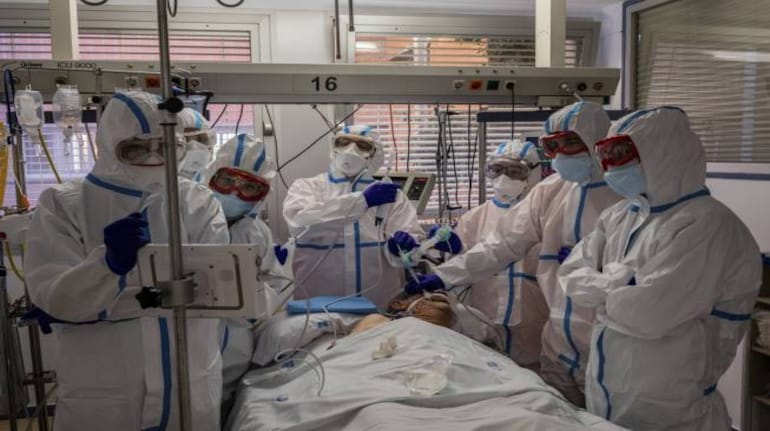 The Quest for imaginary and psychic freedom make most Democratic Countries around the World a breeding factory and a sitting duck for the Delta Variant of COVID-19
The ability and the capacity of Communist countries to fight and contain or defeat Covid-19 are far much greater if you ask me.
Take America for an example. The claim to too much freedom in the US contradicts their resolve and determination to wrestle the Pandemic to the ground.
Many want to defeat the Pandemic while many, especially with the Republican mindset led by Donald Trump want to minimize or trivialize the devastation of the Pandemic and therefore lie to and play politics with their simple minded biased followers.
In those Communist countries, their leaders don't have to be concerned about public opinion and about basic fundamental human rights and civil liberties like the leaders of democratic countries like America and her allies around the world.
Many pundits believe or suspect that COVID-19 had originated from the Wuan Province of China from where it quickly spread to Europe and from Europe to America.
The question then becomes why is it that the Pandemic has killed many more people in America and other Democratic countries of the World than it has done in China with over a billion population?
The only explanation one can find for that development is what this article is about.
The answer lies in the central control system of all Communist countries where decisions are simply taken at the highest level of Government and just passed down the chain of command in their society to be obeyed by all whether they like the decision or not.
But In America as a representative model for Democratic countries, the Federal Government in Washington DC can take a decision and make laws that can be easily challenged or contradicted by the 50 State Governments and even by ordinary citizens claiming some imaginary or psychic infringement on their fundamental human rights and civil liberties.
They can even take the Federal Government to Court and arrange Demonstrations and Protests against the Government, even against the President or any State Governor in their exercise of their fundamental human rights.
Any citizen who tries this kind of thing in China or Russia or North Korea may not live to tell the story, because their Governments do not tolerate or condone dissent like they do in America and other Democracies around the World.
If you don't believe me, I have to remind you about what happened at Tienamen Square in China when protesters and demonstrators blocked the right of way for heavy armored vehicles hoping that the authorities would not allow them to be crushed.
Thousands died because their leaders could care less. Any President or Government which does that in America or Britain would not survive the fallout from such action, insensitivity and defiance of public opinion.
If China or Russia or North Korea makes a law that everybody must take the vaccine or get themselves sterilized for population control, the great majority of the people just obey the law without lifting a finger.
President Joe Biden unlike President Xi of China has to be begging Americans to take the vaccines.
An outlaw former President and some Republican Governors are passing legislations and openly campaigning against vaccination knowing fully well that thousands are dying and many more are going to die from the Pandemic, if they refuse to take the vaccine and put on the mask, all in the name of exercising their fundamental human right?
America is truly insane. They claim to have freedom but they truly don't have freedom.They only fake it as observed by Socrates.
"Man claims to be free but everywhere he is in chains" once observed Socrates one of the World's greatest teachers and philosophers who taught his students by asking questions and by challenging old assumptions.
Are Americans really as free as they claim?
My resounding answer to that rhetorical question is "No" if you see what I see in the American society.
That is the huge difference between President Biden and President Xi of China or President Putin of Russia or President Kim Jung Un of North Korea.
Why is it that home-grown and foreign-trained terrorists hardly ever operate in China like they do in America, or in most democratic countries of the World?
It is because they know that a former President like Donald Trump who dared to sponsor a coup in China would long have have been arrested and summarily dealt with to teach others a lesson they would not forget in a hurry. If in doubt, read up on what happened to the wife of Chairman Mao and her gang of 4 in China?
On Thursday, around the huge Library of Congress in Washington DC, another time bomb was discovered by Law Enforcement.
The truth is that terrorists loyal to Donald Trump have not given up on taking out Joe Biden and Kamala Harris and putting back Donald Trump in the White House.
Donald Trump is yet to pay a price for being implicated in a 'Coup' against his own Government.
The Talibans in poor Afghanistan have just proved to America and to Joe Biden and his Pentagon that their intelligence apparatus is seriously flawed, defective and faulty and it needs to be urgently refurbished and revamped.
The little David in the Taliban has taught the American Goliath a lesson he cannot and would not forget in a hurry.
The Taliban have taken over Afghanistan and the Americans now have to take permission to move around in Kabul to get all Americans out of Kabul before many of them face the wrath of the Taliban going around Kabul like drunken sailors looking for saboteurs who have shown any loyalty to America.
How are the mighty falling? There is some merit in Dictatorship as compared to Democracy but I will always advocate for Democracy because Dictatorship abuses citizens' genuine and fundamental human rights.
I rest my case.
Dr. Wumi Akintide.
LATEST POSTS
SUBSCRIBE TO OUR NEWSLETTER NOW
TEXT AD: To advertise here – Email ad@matazarising.com