By Basil Okoh – MaTaZ ArIsInG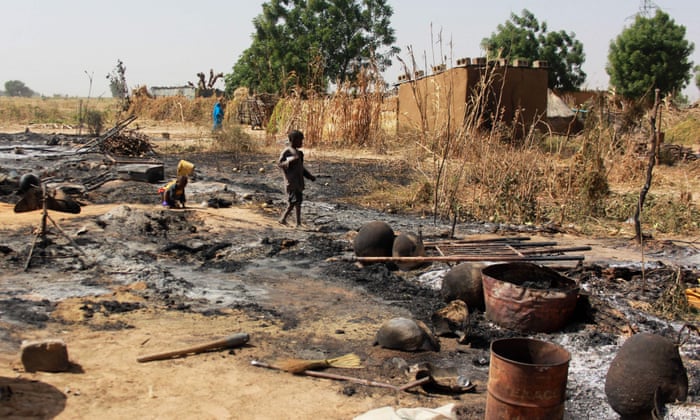 It is amazing how voluble some Northern dolts have become over political agitations in the South.
Yoked to abusive power mongers themselves, they have become enslaved to regression.
They gloat over the seeming weakness of southern agitators even as their own land is being ravaged by poverty, disease, banditry and their people dying like rats in the hands of terrorists rebranded as bandits.
They laugh at the South even as all their youth are migrating to the same South to find peace and means of livelihood.
Nnamdi Kanu has been captured. Sai baba! Sunday Igboho is on the run. Sai arewa!
They believe that the hunting down of these agitators is an indication of victory for the North in an ongoing war with the South. Sai baba! Buhari is now "The General".
The United Nations and all other multilateral agencies address Northern Nigeria as the poorest place on earth and their people as the hungriest in the global food index, even worse than war ravaged Yemen.
They remain the worst in every index of development but laugh at the South that is better than their desolate territory a hundred fold. Most northern elite are now marooned in Abuja, Kano and Kaduna and cannot travel to their own communities.
Jesus will always be right. The North cannot remove the log in its big eyes but laugh at the specs in the eyes of Southern Nigeria.
You see them in social media lashing out at and ribbing the weaknesses of the South and the struggles of Kanu and Igboho with northern power abusers. But their own land has been laid to waste by hunger, disease and terrorism.
Without the Nigeria Armed Forces, Northern Nigeria will dissolve into war. Internecine war. The officers and men holding northern Nigeria together are mostly from the South and Middle Belt.
Abayomi Dairo, the Jet figher pilot just shot down is a Yoruba Southerner. He was probably betrayed by northern officers who jealously want him dead just like the others killed this year. He alluded to an "explosion" in his plane.
Forget those ranks and epaulettes on the shoulders, the brave and skilled officers and men are southern and Middle Belt soldiers.
Murtala Mohammed was cited as the most disgraceful war commander of the 20th century in the entire world. He lost 6000 men in a single battle at Abagana.
Northern social media rats gloat over their assumed supremacy because a bigoted Commander in Chief is abusing his command and oppressing a section of the country. What happens when there is a change of Commander in Chief?
The Fulani bandits you see today will disappear into the wilds out of Nigeria.
Await 2023 with fear and trepidation.
@basilokoh.
SUBSCRIBE TO OUR NEWSLETTER NOW
TEXT AD: To advertise here – Email ad@matazarising.com