By Farooq A. Kperogi
Twitter: @farooqkperogi
In today's Saturday Tribune/Peoples Gazette column I respond to Reuben Abati who referenced me in his column that sought to deodorize Buhari and Arise TV's choreographed PR show mischaracterized as an "interview":
That even the vaguest pretense to traditional watchdog journalism is in throes of death in Nigeria's institutional news media was instantiated by the interview Arise TV's crew had with Muhammadu Buhari last week. It was out and away a PR job that masqueraded as journalism.
The questions were feeble, obvious follow-up prompts were ignored, the questioners were diffident, and the viewer was left scratching their head about what they had just watched. It was the journalistic equivalent of a bad circus.
I am glad famous Punch columnist Sonala Olumhense clinically dissected the interview in his Sunday column and showed what a tragic professional theater the interview was. Even though I was initially inclined to comment on the poor quality of the conduct of the interview, I chose to cut the interviewers some slack because I thought managing to get reclusive and tight-lipped Buhari to talk after nearly six years of ignoring the domestic news media was praiseworthy.
But Reuben Abati's cloying, self-aggrandizing, and mind-bendingly eulogistic post-interview column removed all doubts that Arise TV was merely conscripted as an instrument of presidential propaganda and mind management in the aftermath of the growing global reprobation that Buhari's ill-thought Twitter ban has activated. Who better to recruit for the job than two previous presidential propagandists and mind managers?
So, in retrospect, it makes sense that the "interview" did not have the haziest resemblance to a professional journalistic interview. It was a predetermined, duplicitous public relations performance that stole and wore the garbs of journalism to give it undeserved professional legitimacy.
Now let's look at the print version of Abati's presidential propaganda project that he called a column. Although the interview was clearly pre-recorded and edited, which gave Buhari more verbal clarity than we have become accustomed to lately, he was still repetitive, cracked the same humorless jokes, avoided questions that required him to demonstrate familiarity with the nitty-gritty of contemporary events like the Twitter ban, and gave and got away with puzzlingly off-center responses to questions he was asked.
Yet Abati wants Nigerians to disbelieve what they saw, transport themselves to an alternate universe, and persuade themselves that Buhari was "alert, alive, informed, confident, relaxed, witty and capable of disarming humour" during the interview. This is classic gaslighting. Many people who read Abati's column were compelled to re-watch the interview to see what they'd missed. They found that they were being psychologically manipulated by a professional mind manager.
The presidential propaganda project won't be worth its while if it wasn't deployed to impugn the growing evidence that Buhari is held hostage by dementia, which I have called attention to since 2018.
Abati wrote: "Commentators like Farooq Kperogi, claiming insider knowledge of Aso Villa and its actors, in seductive prose, told Nigerians many tales about how their President had succumbed to a combination of dementia and senility and government had been taken over by unscrupulous persons who call the shots in the President's name."
I know Abati is earning his pay, which is fine by me, but he should not promote ignorance in the process of doing so. A choreographed one-hour interaction isn't what you need to disprove that someone has dementia. The doctor who met Buhari and alerted me to his dementia years ago also has a father with dementia. He reached out to me because he read my June 20, 2015 column titled "Criticizing Buhari Over 'President Michelle of West Germany' Gaffe is Ignorant."
He said contrary to what I wrote, Buhari's gaffes during his trip to Germany (or, as he called it, "West Germany") wasn't age-induced memory lapse, which everyone over the age of 40 is apt to suffer occasionally, but dementia. He listed signs to look out for, which I did and chronicled in many columns (see, for instance, my January 19, 2019 column titled "Buhari's Physical and Mental Health is Now a National Emergency"). So, it wasn't based on "tales" but on verifiable observations.
If Abati has no idea what dementia means, he should look it up on the web. He might learn a thing or two. Dementia doesn't mean people who suffer it can't grant an interview. But it means even when they grant one, they can't answer the questions they're asked if the questions are very current, as Buhari often does.
The short-term memory of people with dementia is often weak and unreliable, so they rely on old memories, which makes them boringly repetitive. That's why Buhari keeps saying the same things since 2016.
In 2020, when a journalist asked him in an impromptu interview about the probes of the EFCC and the NDDC, he started talking about Single Treasury Account. Garba Shehu was caught on camera frantically telling the journalist who interviewed Buhari to cut the interview. It wasn't a "tale." It did happen. And the evidence exists on the Internet. There were many such examples even in his Arise TV interview.
Having dementia also means that while the sufferers may have occasional moments of clarity, they are usually mostly lost. And that describes Buhari. Why do you think he failed to show up at Government Science Secondary School in Kankara in the aftermath of the kidnap of schoolboys there even though he was in Katsina at the time?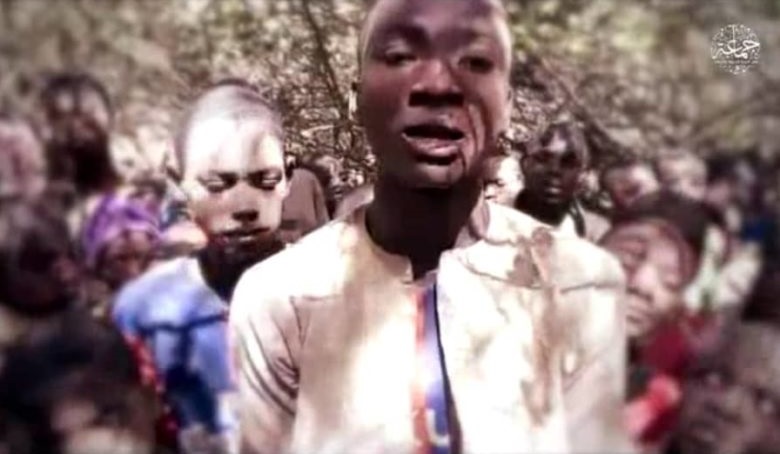 Why do you think he failed to show up at the funeral of the Chief of Army Staff even though he had no other engagement that day and was only a few minutes away from the venue of the funeral?
When COVID-19 became a pandemic in March 2020 and there was public pressure for Buhari to address the nation, he was absent. When his minders couldn't resist the pressure any longer, they pre-recorded a speech that lasted only a couple of seconds in which Buhari mispronounced COVID-19 as "Kovik one nine"! As I pointed out at the time, there was no sentient, living being on this earth— and certainly no world leader—who didn't know that there was a global pandemic tipping over the world that was called the new coronavirus or COVID-19.
Again, during the #EndSARS revolt, which convulsed the foundations of Nigeria, Buhari was absent. Then on October 13, 2020, a video surfaced on the Internet of Lagos State governor Jide Sanwo-Olu briefing Buhari on what the Inspector General of Police was doing about the EndSARS protests. Buhari stood like a breathing, insentient mannequin and intermittently laughed vacuously.
More disturbingly, when Sanwo-Olu said the IGP recommended that governors set up commissions of inquiry into SARS brutality, Buhari interrupted him. "I said that," he said and looked at Ibrahim Gambari, his Chief of Staff, for assurance. "I said that in my speech." He hadn't given any speech at the time.
Recall, too, that when Buhari visited the family house of the late President Shehu Shagari to commiserate with them over the death of their patriarch, he didn't have the presence of mind to write anything on the condolence register; he just signed his name and couldn't even get the date right.
And he also appended his signature to a memo to then Senate President Bukola Saraki appointing two justices to the Supreme Court in which his first name was spelled as "Muhammdu." People who are close to Buhari know he has (or used to have) an obsessive-compulsive urge to spell his name as "Muhammadu." That he missed the misspelling of his name and appended his signature to it pointed to diminished sentience.
Plus, dementia also sometimes comes with a degeneration of the muscles, which explains why Buhari falls without explanation, as we saw during the 2019 campaigns in Lokoja and in Kaduna. His close aides who caught him when he fell in Lokoja didn't seem shocked, which indicated that they were already habituated to it.
A 45-minute propaganda interview can't erase all the evidence of dementia we see in Buhari.
Anyone who wants to believe that Buhari has no dementia and that he is the picture of perfect mental and cognitive health because he didn't drool during a choreographed PR show called an interview is free to do so. But it takes nothing from the truth of his progressive mental degeneration and his unfitness to be president of a complex, developing country like Nigeria with no solid institutions to withstand a dementia-plagued president.

SUBSCRIBE TO OUR NEWSLETTER
TEXT AD: To advertise here – Email ad@matazarising.com