Mahdi Shehu, a Nigerian political analyst, has criticized President Tinubu's recent ministerial appointments, suggesting that individuals like Tinubu have become adept at orchestrating successful civilian coups.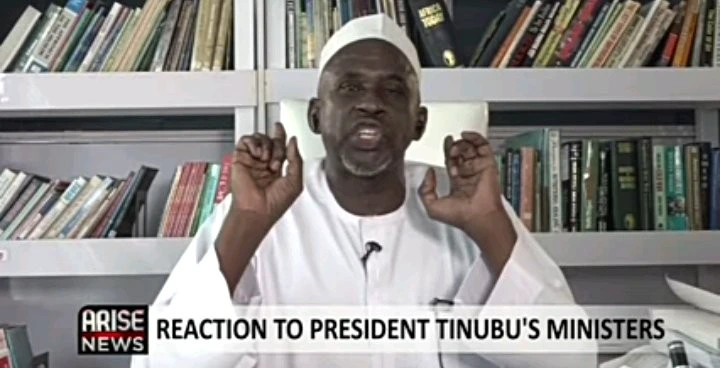 After President Bola Tinubu disclosed the designated roles for the 45 confirmed ministerial candidates on Wednesday, differing viewpoints have emerged. While some citizens find the allocated portfolios satisfactory, Mahdi Shedu has expressed skepticism regarding the caliber of appointees and has raised concerns about marginalization.
He remarked, "Fortunately for Nigerians, this might, with hopeful prayers, be the briefest cabinet tenure. We hope for that outcome. And when it proves brief, we anticipate that Nigerians from the North East, Central, South East, and North West will exhibit wisdom, act judiciously, behave prudently, and govern sagaciously. However, the key takeaway from this ministerial list and portfolio is that the ability to successfully execute a coup doesn't rest solely with military personnel. Civilians like Bola Ahmed Tinubu have mastered the art and technique of orchestrating a civilian coup effectively, smoothly, and without violence."
He added, "I extend my congratulations to him while sympathizing with Nigerians. I also commend the South West for apparently paving the way for an Oduduwa Republic."
Watch The Video
What are your thoughts on this? Are you satisfied with the various portfolios and the persons appointed as Ministers to spearhead the activities of these ministries? What do you make of Mahdi Shedu's allegation that President Tinubu has perfected the skill of executing a civilian coup successfully in Nigeria?
Leave a comment in the comment box below.
---
SUBSCRIBE TO OUR NEWSLETTER NOW
---
Support MATAZ ARISING' journalism of integrity and credibility.
Good journalism ensure the possibility of a good society, an accountable democracy, and a transparent government.
We ask you to consider making a modest support to this noble endeavour.
TEXT AD: To advertise here – Email ad@matazarising.com
LATEST POSTS
MaTaZ ArIsInGTexas A statement by the ministry ordered the affected appointees to hand over the affairs of their offices to the most senior officers in rank.   The Minister of the Federal Capital Territory, Nyesom Wike, has approved the immediate termination of the appointments of 21 heads of parastatals, agencies, and government companies of the FCT…

---

MaTaZ ArIsInGTexas I AM ALSO NOT A DRUG LORD, CULTIST… Popular Nigerian singer, Azeez Fashola aka Naira Marley on Tuesday said he's making arrangements to return to the country to assist the ongoing investigation over the death of his former signee Ilerioluwa Oladimeji Aloba aka Mohbad. The Marlian boss made this known in a statement…

---

MaTaZ ArIsInGTexas Popular Nigerian journalist Kemi Olunloyo reveals that Sam Larry is the alleged father of Mohbad's child after doing her investigations. The controversial journalist made this assertion to all and sundry in her latest Instagram post today, September 25 adding that the investigation has been submitted to the police. This comes after Kemi Olunloyo…

---