Good politicians don't avoid debates, 'Emi lo kan' politics breeds dictatorship – Tunde Bakare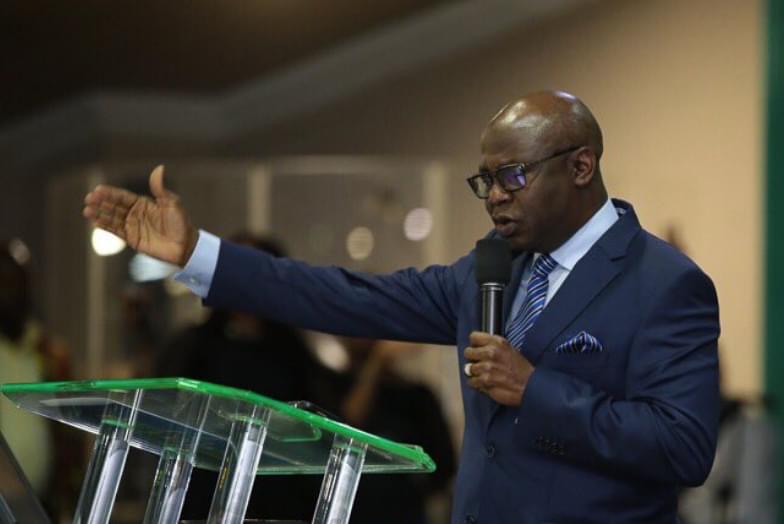 Tunde Bakare, the serving overseer of the Citadel Global Community Church, says politicians who practise the "emi lo kan" kind of politics do not intend to serve the people.
Bakare spoke on Sunday during a state of the nation broadcast delivered at his church auditorium in Ikeja, Lagos.
The broadcast was titled: 'Bridging The Gap Between Politics & Governance'.
Speaking on the forthcoming polls, Bakare asked Nigerians to shun vote buying and focus on politics that can spur development.
Highlighting bad forms of politics, the cleric mentioned politics of division, deception, manipulation, merchandise, exploitation, betrayal, slander, intimidation, elimination, and entitlement.
Commenting on the politics of entitlement, Bakare said such form of politics is also known as the "emi lo kan" politics, which gratifies personal ambitions.
Although the cleric did not mention Bola Tinubu, presidential candidate of the All Progressives Congress (APC), the catchphrase — emi lo kan — was popularised by the former Lagos governor.
"Emi lo kan" is a Yoruba phrase which loosely translates to "it is my turn".
"Politics of entitlement — this is the 'emi lo kan' type of politics that insists on one's turn, even if circumstances do not align," Bakare said.
"It could also manifest as insistence on a given political office as a reward for what one considers a lifetime of sacrifice to the nation.
"Politicians with a sense of entitlement evade political debates and do not consider it imperative to communicate with the electorate.
"Entitlement politics will breed an imperial presidency that is distant from the people and has no sense of responsibility or accountability to the people. Such imperial governance will slide towards dictatorship and will be intolerant of dissent.
"Entitlement politicians set low performance benchmarks for themselves when they secure power and are content with projecting molehills as mountains of achievement. That is bad politics and bad fruit and all that it is."
Speaking further, the cleric said politicians who practise good form of politics communicate with the people and do not avoid debates or delegate questions.
"Good politics — it is communicating. Politicians who practise good politics talk to the people they intend to govern," he said.
"By communicating, they allay fears, restore hope and assure the citizenry.
"It is engaging and interacting — practitioners of good politics are open to interrogation and they do not avoid debate or evade difficult questions. They don't even delegate their questions to people to answer for them."
---
SUBSCRIBE TO OUR NEWSLETTER NOW
---
Support MATAZ ARISING' journalism of integrity and credibility.
Good journalism ensure the possibility of a good society, an accountable democracy, and a transparent government.
We ask you to consider making a modest support to this noble endeavour.
TEXT AD: To advertise here – Email ad@matazarising.com
LATEST POSTS
MaTaZ ArIsInGTexas Lagos State has defended the ongoing demolition of buildings in unauthorized places in parts of the state, saying the action is in accordance with the rule of law. The reaction followed the call by Ohanaeze Ndigbo on the state to suspend the demolition of houses following complaints it received. Its President Chief Emmanuel Iwuayanwu, who…

---

By AMINU A. YANTAGWAYE MaTaZ ArIsInGTexas Reading from the national dailies, both online and print media, how President Bola Tinubu lamented about the level of socio-economic deterioration he inherited from his predecessor is overwhelming.  His National Security Adviser, Mallam Nuhu Ribadu, also maundered about the same reason that the previous government ran Nigeria into bankruptcy,…

---

MaTaZ ArIsInGTexas Musiliu Obanikoro, the former minister of state for defence, on Wednesday, disclosed that N1.219 billion cash was airlifted to Ekiti state ex-governor, Ayodele Fayose during the 2014 election. Fayose is facing trial by the Economic and Financial Crimes Commission, EFCC, alongside his company, Spotless Investment Limited, over their alleged involvement in N6.9 billion…

---