By Lasisi Olagunju
(Published on MaTaZ ArIsInG on Monday, 30 August, 2021)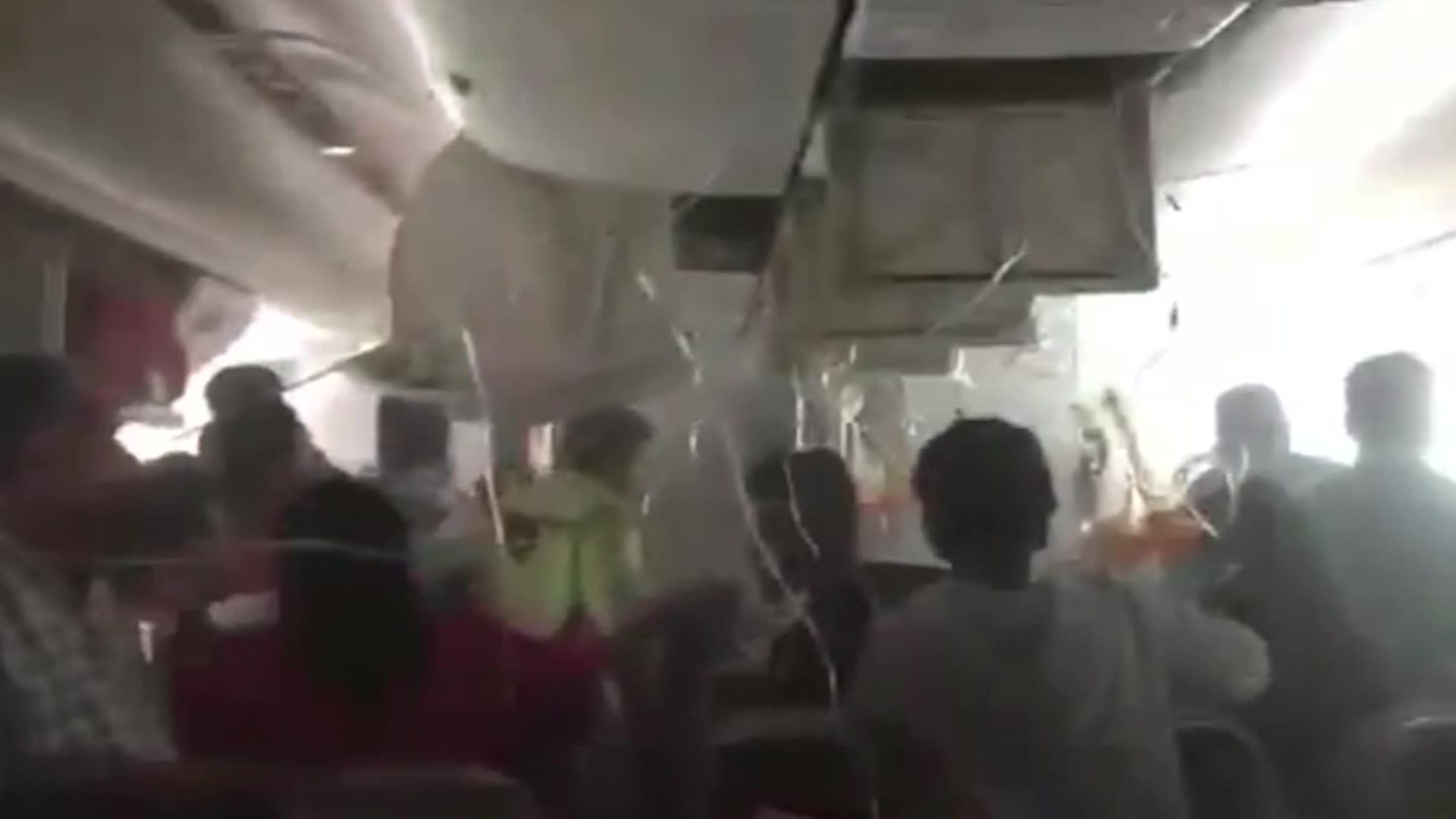 Scary! One spring night, the pilot of a small plane experienced a complete engine failure. On top of that, he lost his electrical system, and with it, the use of his radio and navigation instruments. Mist filled the sky. The moon had not yet risen. The plane went down helplessly and blindly in the darkness….. I did not author that short, terribly foreboding story. I picked it from an organization called The Hypnosis Clinic. Hypnosis? What a name! But then, you want to ask: what followed that plunge? I asked same question too. Not many people are lucky to live through such a free-fall and answer such a question in one piece.
Imagine that Nigeria is an airplane, fully loaded with all of you. It dawned on the passengers at takeoff that the pilot is not only poorly trained, but he is also emotionally maladjusted. Now, mid air, some mad fellows have unfastened their seat belts; they are off their seats; they are holding passengers hostage. They wield daggers, assault guns and grenades; the pilot is not bothered. He sees no evil; he hears no evil. The bandits can do their in-flight banditry, it won't be the captain's challenge as long as his seat is safe, sure and secure. His ears are plugged to some cool, nuptial music. He has a toothpick between his well-fed teeth. He just did a two-city, jaw-dropping carnival for his son; he has other great events to attend to at home. Last week, one of his associates, in just one day and in one single event, staged mass weddings for ten boys and girls -all from his very fecund loins. There are other beautiful things to do going forward. There are jokes to crack about miserable wailers disturbing his flight hours.
The plane is under a real threat of a crash now. The pilot flashes a glance at the terrorists; he offers them lobes of kolanut; he adds cigarettes and lights matches for them. The hostage takers are doing what the Talibans do in Afghanistan; they are unsmiling and taking charge. And the other crew members are not different from the captain. They yell at all to stop all worries; they insist that everything is well; that the wailers are the evil spirits, the real enemies of the flight. This is a super jet powered by six great engines at take-off. But the pilot has lost one, two, three, four of the engines. The pilot is tasking the remaining two while bribing the bandits to join in piloting the plane. Passengers are beyond shock. They look at one another. What they see in one another's eyes are faces of horror. If the pilot, his crew and the hostage-taking terrorists are suicidal, can't they do it quietly after landing and be given the burial they deserve? But they are bringing down the aircraft with everything and everyone? And they say it is criminal for us to shout.
I have painted two deathly mid-air crisis scenarios. The first one is technical. When it happens, we rarely blame anybody but fate. It becomes scarier, however, when the technical issues are traced to homicidal terrorists and complicitly incompetent cabin and cockpit officials. This is where the second scenario comes in. Very many Nigerians ask if their country will survive the spasms of its present war against itself.
In real life, how does it feel for a whole country to be seized for ransom? The kids of Tegina Islamiyya school, Niger State and those of Bethel Baptist School, Kaduna, stolen from class and kept in the wild for months, are back telling what they went through. But I am pointing at a seized plane of 200 million people. What is it about hijackers and their loot in the air? There was the 27 June, 1976 Air France flight 139 from Tel Aviv to Paris hijacked and taken to Entebbe, Uganda with its 250 passengers and 12 crew members. It was an event of horror, apprehension, death and tears. A man called Field Marshal Idi Amin Dada, Conqueror of the British Empire, was the president of Uganda during that period. He hosted the terrorists – and got a bloody nose. Years later, one of the passengers would recall the abductors armed with guns and grenades and bellowing orders. The passenger said: "It is a totally strange kind of fear. It's a fear that you're going to die in the air, you don't know how. You have your children beside you. It's a very terrible and heavy fear. It's impossible to describe how terrible the feeling is." Now, imagine a whole country experiencing what that passenger described. Is that how Nigeria feels right now? Yes, but not exactly. The terrified passengers of 1976 were luckier: Their crew were not part of the problem. Here, there is the feeling that every crew member in the cockpit and in the cabin is part of the heist. It would appear that the pilot and his men see the hijackers as comrades and the passengers as irritating nonsense. Nigeria's hostage victims need more than hypnotherapists to stay calm in these dark times.
Now, we all know that not all troubled planes crash and people actually survive plane crashes. How do they do it? In January 2001, a chartered passenger aircraft crashed at the Maiduguri airport while trying to land. It was carrying Thisday newspaper editors. They all lived to tell the story. They are all still around, healthy and well – big boys here and there. There are several examples of such around the world. An Air Canada Airbus A320 jet had an accident on the runway in Nova Scotia in March, 2015. All its 133 passengers and five crew members successfully evacuated the plane. They praised their pilot and everyone involved in the rescue operation. In July 2013, there was an Asiana crash at San Francisco airport in which more than 300 people survived and three died. There was also the Southwest Airlines 737 which had a hard landing at LaGuardia airport. All its passengers got out in one piece. The pilot was the hero. Around the same time, a Delta MD-88 had a snowstorm misfortune right on the same LaGuardia runway. All its 132 onboard safely evacuated.
Those who survived plane crashes, how did they make it? Or was it plain luck? Someone said good luck is when you combine faith with common sense. On 15 January 2009, a US Airways flight 1549 took off at a US airport but soon lost both of its engines. Then some minutes later came the announcement: "This is the captain, brace for impact." One of the passengers later wrote in The Guardian: "I had to stop thinking about death and start thinking about what I was going to do once the pilot landed in the water. 'You sat in this seat, you've got to get this door open.' Then the plane landed in the Hudson River. But my first thought was, 'This plane is sinking, we have to get everybody off as soon as possible.'" The passengers survived because they had a competent pilot who knew what to do and what to say to everybody on board his troubled plane. They survived also because they were sensible people who knew when noise was useless and when one's fate should be in one's hands.
A frantic world is evacuating its people from Afghanistan, a country that has chosen to be dreadfully out of this world. The evacuation seeks to beat a deadline. What happens thereafter, we wait to see. Nigerian states are also evacuating their 'nationals' from Plateau State where murder is no longer a crime. Murderers hack and kill whole families and melt into the fogs of official darkness. Zamfara State governor, Bello Matawalle said at the weekend that bandits' activities had gone completely out of control. He wanted the north declared a disaster zone with emergency rule enthroned. But the Federal Government that we have is one that is mirthful fighting everyone except those wrecking the country. The feeling in every home is that the government is at war with Nigerians. How did we get here?
What does it mean to fail and dance home? How do we handle a driver who crashes a vehicle but feels no sense of loss? A General who loses a decisive war, how do we celebrate him? Some days ago in Lagos, ex-Kano emir, Sanusi Lamido Sanusi launched a book of his essays, interviews and conference papers written across two decades. The reviewer of the book, Wale Adebanwi, professor of Africana Studies at the University of Pennsylvania, United States, said time was running out on Nigeria. He was right. All sensible people outside the Nigerian government know that a crash is likely, if it has not happened. If you do not agree, please, read Zamfara governor again. This is endgame at end times. Adebanwi added something very profound. He elegantly described today as a moment when "utter cluelessness, mixed with mindless indifference, has been turned into a matter of regime pride and even governmental swagger." Where I come from, you don't celebrate osi (misery) with ayo (joy). Today is August 30, 2021, this regime of swaggers goes on May 29, 2023. That is some ugly, bumpy 637 days ahead. It is well with our soul.
PLEASE SHARE AS WIDELY AS POSSIBLE!
LATEST POSTS
SUBSCRIBE FREE TO OUR NEWSLETTER NOW
TEXT AD: To advertise here – Email ad@matazarising.com