Speculation as Akeredolu fails to return to Ondo, make public appearance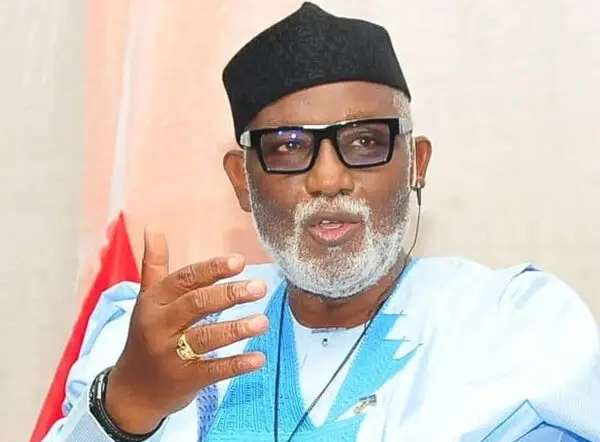 Since Governor Oluwarotimi Akeredolu of Ondo State returned to Nigeria from a three-month medical leave in Germany over a month ago, the controversy over his failure to return to the state or make public appearance has persisted, fuelling the suspicion that the state is being governed by proxy, Wale Igbintade writes
On September 7, 2023, the Chairman of the South-west Governors' Forum and Governor of Ondo State, Mr. Oluwarotimi Akeredolu returned to Nigeria from a three-month medical leave in Germany but since his return, he has not been seen either in public or anywhere in the state.
No man should be mocked over his health condition because illness is beyond the control of any man. But the questions agitating the minds of the opposition elements in the state are: What is the hurry to resume all about if his ill health won't allow him to come to the state? Why did he say he has resumed when indeed he has not?
Akeredolu was last seen briefly in public shortly after he returned to the state from his 15 working days annual leave on May 1, but his ill health generated a lot of anxiety.
The governor had embarked on a 21-day medical leave on June 7 and was expected to return home on July 6, 2023 to start performing his duties after he had written to the state House of Assembly in line with the constitutional provisions.
When he proceeded on medical leave, he handed over power to his deputy, Mr. Lucky Ayeditawa to act in his stead, as required by the constitution.
However, on the expiration of the vacation, the state assembly received yet another letter from the governor requesting the extension of his medical leave but this time, a date of return was not included.
Although there is no official statement specifically giving details about his illness, unofficial sources said the governor was battling with an ailment said to be leukemia.
A day after his arrival from Germany, the governor at the meeting with his close aides at his residence in Ibadan, according to a statement by his media aide, Richard Olatunde, said: "We are here, and we are back. I am back, and by the grace of God, I will be alive to complete my full tenure in office. I want to tell you that I am back, and I will resume work immediately. This is my letter of resumption."
However, since his return to Nigeria, he has not visited his state, despite claiming to officially resume duty, and this has greatly affected the political quasi stability in the state, allegedly worsening it greatly.
But capitalising on his long absence from the state and his performing his official duties from outside his state, the opposition Peoples Democratic Party (PDP) has wondered why Akeredolu is being kept at his residence in Ibadan. The party posited that it is an indication that he is not yet fit to resume work.
The state Publicity Secretary of PDP, Kennedy Peretei, questioned the rationale behind his failure to return to his office, saying: "The Governor of Ondo State, Mr. Rotimi Akeredolu, (SAN) is still nowhere to be found, since he claimed he has resumed duties as governor after his three months medical leave in Germany. The governor was reported to have signed the creation of 33 LCDAs bill into law, sacked the media aides of Deputy Governor Aiyedatiwa all from hiding."
A week after Akeredolu's arrival, the PDP also challenged the rationale for calling for a meeting in his Ibadan residence, instead of Ondo State where he was elected to govern.
"Up till this moment, the governor has not been seen anywhere near Ondo State. Akeredolu is beginning to fuel media speculations that, against the advice of his doctors, he was hurriedly brought into Nigeria to foil an impeachment process."
The party alleged that Akeredolu also ordered an upgrade of his Ibadan residence to include a replica of Executive Council Chambers, from where he intends to hold exco meetings.
"Does Akeredolu want to make Ibadan the capital of Ondo State? What is the hurry to resume all about if he cannot come to Ondo State? Would it not have made more sense if he was still attending to his health abroad? Why did he say he has resumed when indeed he has not?
"Our party wishes to advise Akeredolu to come to Ondo State to complete his tenure. But if he does not feel fit enough to resume, he can proceed on another medical leave instead of trying to pull wool over our eyes in Ondo State."
There are also rumours that it is not the governor that is currently administering the state but his wife, Betty and son, Babajide.
However, responding, the state chapter of the All Progressives Congress (APC) described the PDP's statement as an indication that the opposition party wished the governor would not come back from his medical vacation. The spokesperson for the APC in the state, Alex Kalejaiye, said the governor has been attending to state matters since his arrival.
"It is unbelievable that the PDP is having a grouse with the location of our governor, Arakunrin Oluwarotimi Akeredolu. This is a clear indication that the opposition party never wanted Arakunrin back alive.
"The crux of the matter is that Mr. Governor has been attending to state matters since his arrival the way he ought to, irrespective of location. This is an indisputable reality. I sympathise with the PDP; it is a crisis-ridden political party that is bereft of ideas and no longer coherent and constructive."
The late President Umaru Musa Yar'Adua had spent at least 109 days of 32 months for medical reasons in foreign hospitals abroad, after he was inaugurated on May 29, 2007.
The number of days he spent in Germany and Saudi Arabia on medical grounds were almost a quarter of the number of working days he spent as president.
Like every other public office holder and civil servant in the country, the former president also enjoyed about 295 days of weekends and public holidays during the same period; which means he spent more than 400 days in total out of office.
Akeredolu was the National President of the Nigerian Bar Association (NBA) at that time and he was one of those who protested against the former president's action.
Akeredolu was said to have declared that going by the number of days Yar'Adua spent away from his duty post, Nigeria had no president legally. He also reportedly argued that the leadership vacuum in the country prompted the NBA trustees to file a suit before a Federal High Court in Abuja.
He said: "The Nigerian state is auto-piloted. We now have a president whom we are told can rule from anywhere. But the president himself has announced through the BBC that he is in a hospital, indisposed and unable to perform his functions. And this development prompted the trustees of the NBA to file the suit because we feel that what is going on is not right and may lead to a constitutional crisis.
"Nigeria, at present, has no president legally speaking, since it is now confirmed, via the BBC interview, that Yar'Adua is incapacitated. Until Vice President Jonathan takes over as the acting President in the absence of Yar'Adua, we shall remain sheep without a shepherd," Akeredolu reportedly said while reacting to Yar'Adua's illness.
Amid the uncertainty over Akeredolu's ill health and absence in the state, the state House of Assembly last week formally began the process of sacking the deputy governor over alleged "abuse of office."
If the state assembly succeeds in removing Aiyedatiwa from office, it means Akeredolu would have served with three deputy governors for his two terms in office, having fallen out with two of them at different times between 2020 and 2023.
While the drama between the governor and his deputy has raised concerns among residents of the state and Nigerians, Akeredolu's failure to resume physically in his state capital has also fuelled suspicion in the state.
With Akeredolu's deputy at risk of being impeached, and his involvement in this, it is believed that the governor has no time for governance. As a consequence, commentators acknowledge the governor as chiefly responsible for the gloom in Ondo.
---
SUBSCRIBE TO OUR NEWSLETTER NOW
---
Support MATAZ ARISING' journalism of integrity and credibility.
Good journalism ensure the possibility of a good society, an accountable democracy, and a transparent government.
We ask you to consider making a modest support to this noble endeavour.
TEXT AD: To advertise here – Email ad@matazarising.com
LATEST POSTS
MaTaZ ArIsInGTexas Insecurity: Buhari wasted trillions, Northern elders can criticize Tinubu – Shehu Sani The Northern Elders Forum (NEF) has lamented that Nigerian president, Bola Tinubu's words, deeds and body language have obviously proved that he is not interested in the security of Nigerians and Nigeria as a country. Prof Usman Yusuf, a NEF chieftain,…

---

By Bola BOLAWOLE MaTaZ ArIsInGTexas Nigeria, as I have often said, is a country of one scandal, one minute. Before you have settled down to digest one, another happens! So, you hurriedly sweep the previous one under the carpets to have enough room for the latest! Our carpets, thus, are bulging, threatening to burst any…

---

MaTaZ ArIsInGTexas The Ooni of Ife has described the report of him visiting the embattled Godwin Emefiele at Kuje prison, as a cheap blackmail Oba Adeyeye Ogunwusi, in a statement issued by his aide, said he was at the facility for an advocacy program The monarch noted that the program was an initiative of Queen…

---