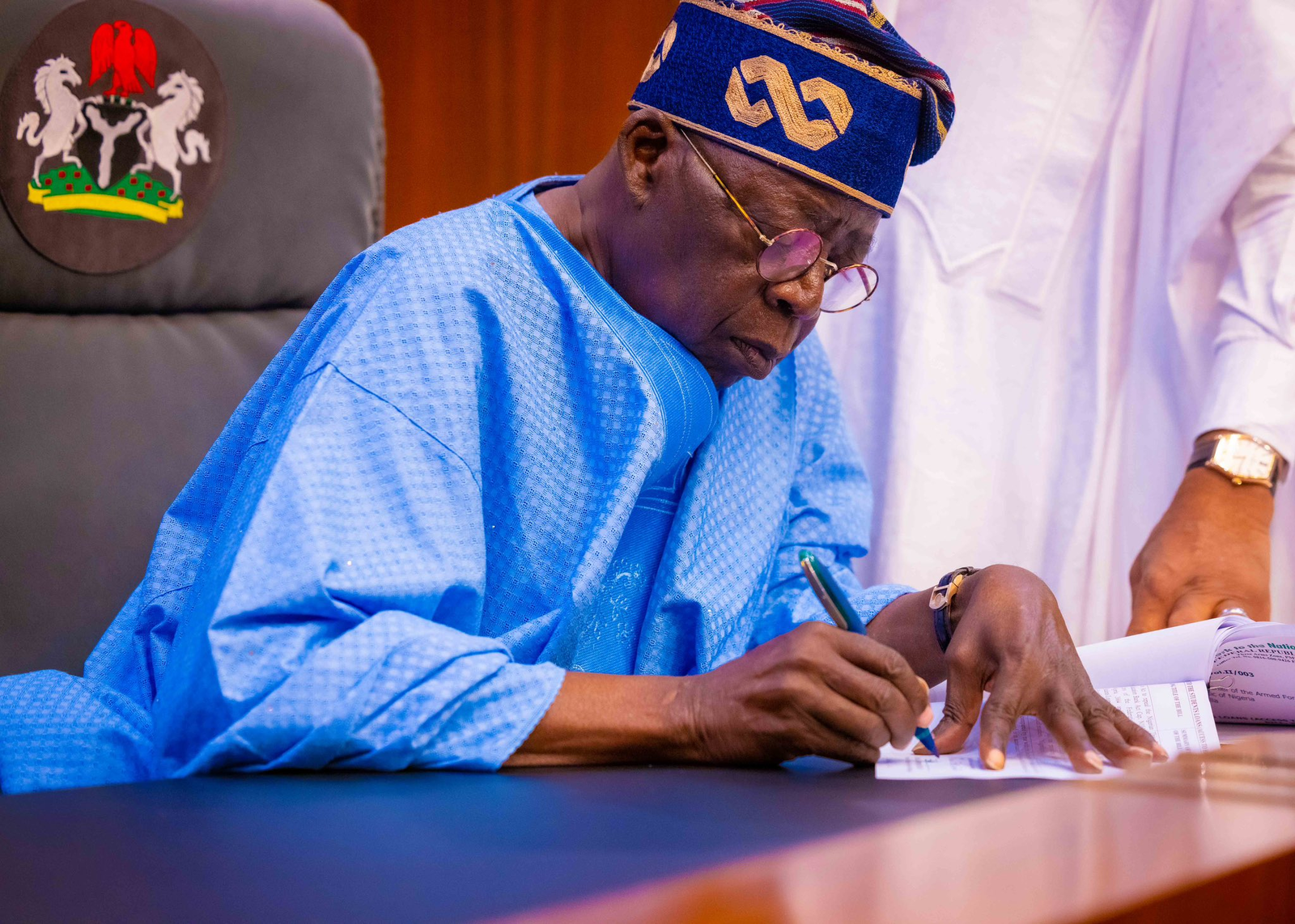 President Bola Tinubu has written the Nigerian Senate, intimating it of the proposed military action and other sanctions against the military officers who recently seized power in the Niger Republic by the Economic Community of West African States, ECOWAS.
Since the soldiers seized power in Niger on July 26, the leaders of the West African regional bloc headed by President Tinubu, has been in discussions, especially on sanctions against the coup plotters.
However, the junta has remained adamant. Not even a delegation by Tinubu, yesterday, could de-escalate the situation.
His letter to the Senate was read on the floor of the Upper Chamber by the President of the Senate, Godswill Akpabio.
The letter reads:
"Political situation in Niger. Following the unfortunate political situation in the Niger Republic culminating in the overthrow of its President, ECOWAS under my leadership condemned the coup in its entirety and resolved to seek the return of the democratically elected government.
"In a bid to restore peace, ECOWAS convened a meeting and came out with a communique:
"Closure and monitoring of all land borders with the Niger Republic and reactivating of the border drilling exercise.
"Cutting off electricity supply to the Niger Republic; mobilising international support for the implementation of the provisions of the ECOWAS communique.
"Preventing the operation of commercial and special flights into and from Niger Republic; blockade of goods in transit to Niger, especially from Lagos and eastern seaports.
COMMENTS: Why is BAT so desperate to please those who do not really care about him, his people or his continent? Is the president not going to destabilize the region with this action if his request is granted?
---
SUBSCRIBE TO OUR NEWSLETTER NOW
---
Support MATAZ ARISING' journalism of integrity and credibility.
Good journalism ensure the possibility of a good society, an accountable democracy, and a transparent government.
We ask you to consider making a modest support to this noble endeavour.
TEXT AD: To advertise here – Email ad@matazarising.com
LATEST POSTS
MaTaZ ArIsInGTexas A statement by the ministry ordered the affected appointees to hand over the affairs of their offices to the most senior officers in rank.   The Minister of the Federal Capital Territory, Nyesom Wike, has approved the immediate termination of the appointments of 21 heads of parastatals, agencies, and government companies of the FCT…

---

MaTaZ ArIsInGTexas I AM ALSO NOT A DRUG LORD, CULTIST… Popular Nigerian singer, Azeez Fashola aka Naira Marley on Tuesday said he's making arrangements to return to the country to assist the ongoing investigation over the death of his former signee Ilerioluwa Oladimeji Aloba aka Mohbad. The Marlian boss made this known in a statement…

---

MaTaZ ArIsInGTexas Popular Nigerian journalist Kemi Olunloyo reveals that Sam Larry is the alleged father of Mohbad's child after doing her investigations. The controversial journalist made this assertion to all and sundry in her latest Instagram post today, September 25 adding that the investigation has been submitted to the police. This comes after Kemi Olunloyo…

---