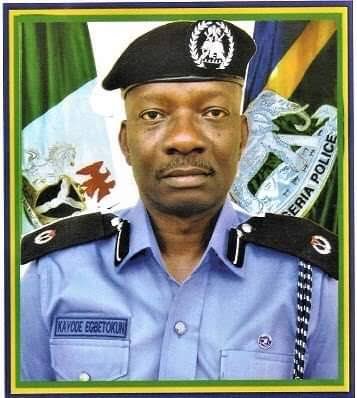 Against the backdrop of continued security challenges, Acting Inspector General of Police, Olukayode Egbetokun has announced the creation of a new Special Intervention Squad comprising 40,000 specially trained elite officers.
He said, "In light of the current challenges, a series of operational strategies have been developed which is aimed at strengthening our capabilities to effectively deliver our mandates. Some of these will be discussed in this conference in a bid to kick-start the process of regaining our pride of place in the internal security architecture of our dear country.
"Our objective is to assess, discuss and implement crucial operational strategies that will enhance our law enforcement capabilities and safeguard the lives and property of our citizens.
Speaking during a meeting with Squadron, SPU, and Tactical Commanders in Abuja, he said, "The Squad will be formed by selecting officers from the pool of existing Police Mobile Force (PMF) personnel and all tactical units in the country.
"These officers will undergo intensive pre-deployment training to make them combat-ready for frontline operational duties in all the states of the Federation, with a particular focus on areas plagued with unrest and turmoil.
"By pooling together the expertise and experience of our PMF personnel and other tactical units, we can establish a formidable force that is well-equipped to handle the evolving challenges we face.
"This dedicated force will bolster our capacity to respond swiftly and decisively to security threats, ensuring that our presence is felt and our response is effective in every corner of our country.
"One thousand personnel from this new squad will be deployed to every state of the Federation for immediate operations as standby intervention units, while more troubled spots or zones will receive the remaining officers out of the 40,000.
"These officers will not perform routine police duties but will be housed and kept combat-ready at all times engaging in daily trainings in readiness for deployments to intercept and neutralize high-profile criminals and those terrorizing our communities.
"They will be deployed to intervene rapidly and proactively in any situation necessary in their states of assignment.
All Tactical Commanders will be involved in the process of identifying suitable candidates from within their respective units.
"These individuals should possess the necessary skills, agility, experience, character, and commitment to excel in the challenging and demanding environments they will encounter.
"The new special squad will be equipped with the knowledge and skills needed to combat evolving criminal activities, insurgency, and other security threats especially the activities of non-state actors.
"We will henceforth be more proactive and be ready to take the fight to the criminals' den.
"Furthermore, in order to optimize the efficiency of our resources, we shall carry out a re-evaluation of the responsibilities assigned to the PMF. Specifically, we shall effect the withdrawal of PMF personnel from VIP escort/guard duties.
"While the protection of dignitaries remains paramount, it is imperative that we realign our priorities to address the escalating security challenges faced by the nation as a whole.
"By relieving the PMF of VIP escort and guard duties, we can redirect their focus and efforts toward addressing critical concerns that affect our at large.
"To this end, a special committee headed by the Deputy Inspector-General of Police (Operations) has been set up to assess and advise on how this strategy can be implemented seamlessly.
"The committee is expected to submit its report in two weeks after which further d1etails will be made available. Our goal should be to enforce the law and to be partners in creating safe communities, nurturing an environment where everyone feels protected and valued.
"This is our commitment to Nigerians.
To support the foregoing strategic plan and make needed manpower available for frontline duties, the withdrawn PMF officers will be replaced by officers of the Special Protection Unit (SPU) only where necessary.
"To ensure the smooth implementation of this policy, we will, in consultation with the Police Service Commission, invoke the Supernumerary provision of Sections 23, 24 and 25 of the Police Act 2020 which allows the police to train supernumerary officers specifically for the personal protection duties of individual Nigerians who require their services.
'We will make details of this available in the weeks and months ahead; while making sure the policy is implemented strictly in accordance with best practices.
"This will free up regular police officers to focus more on frontline policing duties across the nation.
"It is important to note that these proposed operational strategies aim to foster a sense of trust, cooperation, and confidence within the Police Force. By involving personnel from various tactical units across the country, we emphasize the unity and collective responsibility of our Force.
"Through this collaborative effort, we can ensure that no area is left unattended, and all states receive the necessary support to combat crime effectively.
"These strategies will definitely require extra support, will, and resources from the government. I am gladdened by the commitment of the government to support our efforts to restore enduring peace to every community in Nigeria.
"At this point, I will like to thank Mr. President and Commander in Chief of the Armed Forces, President Bola Ahmed Tinubu, GCFR; for his passion for Police welfare, support and commitment to repositioning the Police Force for effective delivery of our constitutional mandates.
"The proposed operational strategies presented here today seek to optimize our resources, enhance our capabilities, and reinforce our commitment to public safety.
"By creating a new special squad from our existing pool of PMF officers, withdrawing PMF from VIP escort duties, up-scaling the role of SPU and including Supernumerary Officers in VIP security, we can strengthen the effectiveness of our Police Force and ensure a safer environment for all citizens."
COMMENT: Leadership Matters; Nigeria now has a government of the people and not of cows…if you don't gerrit, forgerabourit…😁
Is this new force in the mold of the godogodos (mobile police) of old? This is a good development in today's Nigeria as long as corrupt politicians don't turn them to private armies against the Nigerian masses or those seen as personal enemies, and, or government enemies.
---
SUBSCRIBE TO OUR NEWSLETTER NOW
---
Support MATAZ ARISING' journalism of integrity and credibility.
Good journalism ensure the possibility of a good society, an accountable democracy, and a transparent government.
We ask you to consider making a modest support to this noble endeavour.
TEXT AD: To advertise here – Email ad@matazarising.com
LATEST POSTS
Monday Lines By Lasisi Olagunju MaTaZ ArIsInGTexas The North and Tinubu's appointments President Bola Tinubu gave our country's Minister of Defence and Minister of State, Defence to the North; he gave the North Minister of Police Affairs and Minister of State, Police Affairs; he gave the North Minister of Education and Minister of State, Education;…

---

MaTaZ ArIsInGTexas A socio-cultural group, Yoruba Council Worldwide, has reacted to the death of afrobeats musician, Ilerioluwa Oladimeji Aloba, aka MohBad. In a statement on Monday by its president, Aare Oladotun Hassan Esq, the group said it has raised a team of lawyers to provide free legal services for MohBad's family to ensure justice is…

---

MaTaZ ArIsInGTexas Mohbad associated with evil men – Pastor Tunde Bakare The General Overseer of the Citadel Global Community Church, Tunde Bakare, has said popular singer Ilerioluwa Aloba, also known as Mohbad, was cut short in his prime because he associated with evil people. Bakare said Mohbad reaped what he sowed while he was alive.…

---