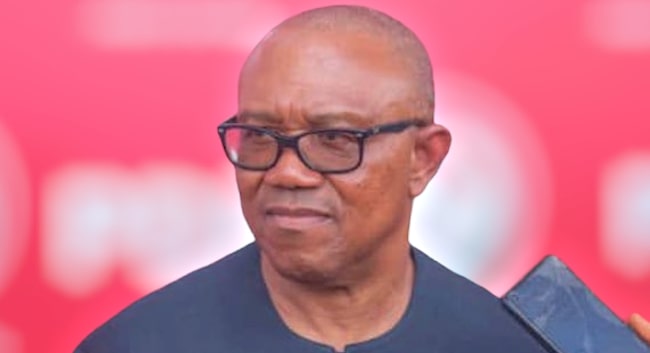 Peter Obi, the Labour Party's presidential candidate for the elections of 2023, has responded to the accusation of treason leveled against him by the Federal Government.
Obi responded to a charge of treason brought against him by the Alhaji Lai Mohammed, the minister of information.
Minister Lai while interacting with international media organisations and think-tanks on the just concluded 2023 polls on Tuesday in Washington DC said Obi and his running mate, Datti Baba-Ahmed Yusuf had been inviting insurrection since they lost the February 25 presidential election.
But in a series of tweet hours later, Obi said some people in high places are demarketing him, adding that there have been consistent efforts in some quarters to portray him quite contrary to what he is.
He wrote: "In the past few days, I have observed various campaigns of calumny directed at my person, with the latest being allegations attributed to the information Minister, Lai Mohammed from Washington DC.
"It is most unfortunate that these consistent efforts to portray me quite contrary to what I am, and my core values, is coming from such high quarters. Minister Lai accusing me of stoking insurrection is totally malicious and fictitious.
"I have never discussed or encouraged anyone to undermine the Nigerian state; I have never sponsored or preached any action against the Nigerian state. Those initiating these actions have increasingly used their official positions and agents to make false allegations against me.
"I am on record as always, advocating for peace and issue-based campaign and never campaigned based on ethnicity or religion. I am committed to due process, and presently seeking redress in the Court.
"I urge those engaged in this demarketing process to stop presenting Nigeria in such bad light. Our future generations deserve a new Nigeria, where they can live a secure and decent life like their counterparts in other climes. It is possible."
Meanwhile, Omoyele Sowore in defence of Mr. Obi blasted the information minister, Lai Mohammed and the federal government because they are afraid of Nigerians in fear of lawful protests and the freedom of speech.
Mr Sowore, in a tweet on Tuesday, said Mr Obi and his party are not different from ruling All Progressives Congress and Peoples Democratic Party while berating the minister of information and culture, Lai Mohammed, for accusing LP presidential candidate of treason. 
"Shameless Lai Mohammed and @NGRPresident claims that protected speech and lawful protests against fraudulent election amounts to "Treason" is a hoax and fallacy carried too far," Mr Sowore wrote.
"They're harassing @Peterobi and his Vice Presidential candidate, DATTI Ahmed with these tactics because they know they are wimps with zero ability to fight a revolutionary struggle and because they've all been partners in crime since 1999."
Mr Sowore' statement comes as the Buhari regime accused Mr Obi of treason for rejecting the February 25th presidential election.
"Obi and his vice, Datti Ahmed, cannot be threatening Nigerians that if the president-elect, Bola Tinubu of the All Progressives Congress (APC), is sworn in on May 29, it will be the end of democracy in Nigeria.
"This is treason. You cannot be inviting insurrection, and this is what they are doing," Mr Mohammed said in Washington DC, during his official engagements with some international media organisations.
Mr Obi, however, in a series of tweets on Tuesday,  dismissed Mr Mohammed's allegation, saying it is "malicious" and "fictitious."
---
SUBSCRIBE TO OUR NEWSLETTER NOW
---
Support MATAZ ARISING' journalism of integrity and credibility.
Good journalism ensure the possibility of a good society, an accountable democracy, and a transparent government.
We ask you to consider making a modest support to this noble endeavour.
TEXT AD: To advertise here – Email ad@matazarising.com
LATEST POSTS
MaTaZ ArIsInGTexas Insecurity: Buhari wasted trillions, Northern elders can criticize Tinubu – Shehu Sani The Northern Elders Forum (NEF) has lamented that Nigerian president, Bola Tinubu's words, deeds and body language have obviously proved that he is not interested in the security of Nigerians and Nigeria as a country. Prof Usman Yusuf, a NEF chieftain,…

---

By Bola BOLAWOLE MaTaZ ArIsInGTexas Nigeria, as I have often said, is a country of one scandal, one minute. Before you have settled down to digest one, another happens! So, you hurriedly sweep the previous one under the carpets to have enough room for the latest! Our carpets, thus, are bulging, threatening to burst any…

---

MaTaZ ArIsInGTexas The Ooni of Ife has described the report of him visiting the embattled Godwin Emefiele at Kuje prison, as a cheap blackmail Oba Adeyeye Ogunwusi, in a statement issued by his aide, said he was at the facility for an advocacy program The monarch noted that the program was an initiative of Queen…

---