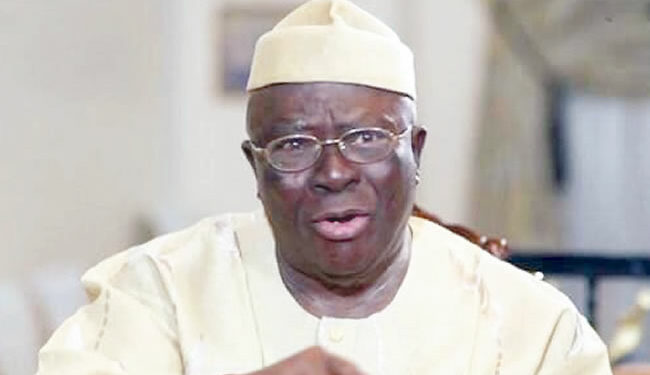 Chief Ayo Adebanjo, Acting Leader of pan-Yoruba socio-political group, Afenifere, speaks on the coming general election just as he replies the convener of Northern Elders Forum (NEF), Professor Ango Abdullahi, over claim that North had picked the candidate it will vote for in the February 25, 2023 presidential election in this interview with BOLA BADMUS. Excerpts:
The 2023 general election will commence on February 25 with the Presidential/National Assembly poll; how far would you rate the campaigns by the candidates jostling for the presidency and what are your concerns going by the way the campaigns are being carried out?
Well, the ruling party, All Progressives Congress (APC) in particular, has been introducing violence into the thing, because it doesn't want to be challenged. The violence, in particular, has been between the APC and Peoples Democratic Party (PDP). That is not fair. But I believe, the Federal Government led by APC is culpable because if they have been alert and active to have arrested one or two persons and prosecute them, the violence couldn't have arisen. And unless they take positive action, the election may not be free and fair.
There is also an observation that the campaigns by the candidates in the presidential race were just attacks and abuses and not issue- based. What is your reaction?
That is between the APC and PDP. The campaign of Labour Party has been issue-based. They cannot say they made a statement of such in Obi's campaign; there is none of his statement against the opponents you can regard as fake news. He has based his own [campaign] on what he is going to do. It is the APC and PDP that have been exchanging scurrilous statements.
What do you think has been responsible for that sir?
Because they are the people the country don't want. The APC was trying to impose a northerner on us. That one failed because of the stubbornness of Tinubu. When he opened fire on the APC, they allowed him to go, but you know how much it cost him at the primary. And you know how much it costs him now for those who are faintly supporting him. I told him before, one on one over a year ago, that the North will not vote for him and I have been repeating it.
So these are the grounds for their claim if they want to maneuver themselves into power, by the constitution they imposed on us by the military, which allows them to do what they are doing not. But it would not work. That is the bottom line of what we are saying. This is 'magomago' or whatever on the basis of the 36 states. And who created the 36 states? Is it we people of Nigeria or the army? These are all the irregularities in this their 1999 Constitution, and that is why Afenifere has since 1999 been clamouring that this constitution must change before we have any election because it is not our own constitution. It is a fraudulent Constitution. It is a fraudulent constitution because its preamble says, "We the people of the Federal Republic." Did we make the constitution? Is the constitution federal? It is a fraudulent constitution, I have been repeating it. And it is on the provisions of the constitution that they want to control us to be in power perpetually.
There is this fear again being raised in some quarters that the forthcoming elections may be postponed because of naira and petrol scarcity?
Forget that. The elections must not be postponed. It is a lazy man's talk. If there is any problem about the election, the Federal Government should look at it and solve it. It is a matter of security, and if the Federal Government is serious, the DSS, they know where the trouble spots are? They should get hold of these trouble makers and prosecute them. These trouble makers would stop. Elections must go on. You see, the people don't understand what I say. By any hook or crook, if you don't want the election or you hold the election and you say there were fraudulent practices in some areas, why should that be so? The bottom line is, if Peter Obi is not declared the president through all these shenanigans, they should return governance to where the colonialists left us. We were not colonised as Nigerians. The British government created Nigeria in 1914 without our consent and we agreed to it. Under certain conditions before Independence, we agreed to remain one.
Chief [Obafemi] Awolowo had warned the British government that Nigeria is not a nation; that it is a geographical expression of many nations. There is Yoruba nation, Igbo nation, Hausa nation, Ijaw nation, the Ibibio and all that, all different nations. But we appreciate the economy of state in coming together, so as we came together peacefully, we must have autonomy; we must have federal system through which every federating unit will develop at its own pace. That is the basis of the Federal System we agreed to in Lancaster House before Independence.
It was that constitution that the military abrogated in 1966. And we have all along been agitating for self- government that this unitary form of government would not work. We are not just talking about it now; we have been about it from the word go. Afenifere has stood on the point when the military said they were going back to the barrack in 1999.
We said if you are going back, send us back to the constitution you met us with. If you are not going to send us back to the constitution you met us with in 1960, then you must call for a Sovereign National Conference for us to agree together and live together and on one condition.
The whole country will remember this: when Obasanjo came in, he said we cannot have two sovereignties. And I explained to him then that the sovereignty I am talking about is the sovereignty of the composition of the membership of conference that is going to make that constitution, and that whatever that conference decided upon is sovereign. It is not subject to any adjustment. You can't take out of it; you can't add to it. And I gave an example as they did in respect of the creation of the National Youth Service Corps and then Land Use Decree. It was the military that introduced those. I said the conference that we are going to agree to live together must not be imposed. There should be no addition and that the conference must be as we did in 2014. That is the sovereignty I am talking about, and that the sovereignty does not affect the incumbent government.
We are not just crying foul now; that was our slogan in 1999 and that was why, if you people remember, Afenifere refused to take part in that election and it is on record that it was General Abdulsalami Abubakar that persuaded us to take part.
And at that time, the Alliance for Democracy floated by Afenifere was not qualified to be registered, because we couldn't afford the money to have branches all over the country. Abdulsalami said we couldn't have another election without the Yoruba participating; he asked them to include us.
We contested that election on protest. We warned him and he is still alive, that it wouldn't be easy. That is why I said Tinubu, Osoba, Adebayo, Lam Adesina and Akande, they betrayed the Yoruba land. They betrayed Afenifere. We told them we are contesting the election on protest to get the mandate of the Yoruba people that have confidence in us. We contested the election and we won all the seats then. Once you are in, we told them don't attend any meeting in Abuja until we change this constitution. But no sooner they were sworn in than they ignored the advice. That's why I always say that they betrayed us. What is happening to Tinubu now, he deserves it. He betrayed the Yoruba people; it was he who carried us to Buhari and that is where we are till today.
Professor Ango Abdulahi, in an interview granted Sunday Tribune last week said the North has already taken a position on who to support and vote as the next president of the country in next week election. Sir, you already have your own candidate in the race, what is your reaction to Professor Abdulahi›s claim?
Ango Abdulahi thinks we have cattle brain in the South; if not, he should know we are intelligent people. It was he who said in 2014 before Buhari came in after Jonathan, he said that time that it is our turn. He should deny it. I have been saying it before, he has not denied it. Ango Abdulahi said so; he didn›t deny it. He said so that it is our turn and when we have it, we have it for keep.
And you know, the North and South I am talking about now. It was Obasanjo that first came in 1999; after him, Yar'Adua came, and after Yar'Adua, Jonathan came in. Jonathan conceded defeat and the thing moved back to the North. The thing that they refused to give to the South-East now. He said that time, in 2014, it is our turn. He should deny it.
If he has forgotten that he made that slogan and all this 'magomago' that is going on to get another Northerner back. Their candidate can't be Tinubu; their candidate can't be Obi. It can only be Atiku. And when they asked that another Northerner may be replacing a Northerner, he said what does it matter? They are playing on the false claim that they have the population and that it is a matter of democracy. That is why I said anything that does not make Obi the president, then let us go back to where we started. It means there is something behind that statement. Why saying that now? It was not made in isolation. There is a background story to that statement. That is why when they knew it was the turn of the South to produce the next president of the country, where all the governors of APC in the North agreed that the thing should come to the South, the APC partially agreed to it. The idea was to field Northerner in APC, Northerner in PDP.
You see many of you don't know the political gimmick they have been playing, but we who practised with their grandfathers, we know. This game has been on before Buhari's school of thought and people like Buhari and Ango Abdulahi, they make us deride the Fulani. Not all the Fulani are bad; we have Datti Ahmed there. We have Tanko Yakasai; we had Aminu Kano there with whom we cooperated in the First Republic. But unfortunately, they are the minority in the North. That is why people say it is Fulani domination, and it is so; they are the minority.
Hakeem Baba Ahmed, who also said something similar before should forget the idea that they have the population. He also said that nobody can become president without the North because they have the population. And that is the basis of pronouncement by Ango Abdulahi too, and Ango Abdulahi said when 'we have it, we have it for keep.' That is why they maneuver the constitution of the PDP, twisted the rotation principle in the constitution, which says if the president is from North, the party chairman must come from South and vice versa. Having changed their constitution to deny the South the presidency, they now say the seat should be made open for contest. That is not the constitution of PDP, it is done in order to bring in Atiku. All this we know from the beginning.
After that, Governor Aminu Tambuwal who was a very close friend of Wike had to disappoint him at their presidential primary in order to get a Northerner in as the party's candidate. And that is why I said if Obi does not win the election, they should forget Nigeria. I am not saying by words of mouth, I mean it. They have played all the permutations; Buhari having completed eight years, they want Atiku again to come in, ah ah! So it would not work.
The moment you deviate from the agreement of our coming together, then you are not being fair. That was the basis of my statement that if Obi does not win the election because of this 'magomago' with which they are deceiving us, they are deceiving Tinubu. They are not going to allow Jagaban to get there and I have said it. And I told Tinubu himself in my room here. He too knew what he went through before he emerged the presidential candidate of his party. Even now, they are still deceiving him and I am saying it publicly. Ango Abdulahi said they have picked their candidate!
There are only three leading candidates. Let me ask him, is he going to vote for Tinubu? Is he going to vote for Obi? It is Atiku! That›s why I told him that if Obi failed this election, forget Nigeria! We will not stay in Nigeria under this fraudulent constitution, I am saying it.
Do you think Obi enough support that can make him win this election?
All of you are basing your assessment on old school of thought, all this corrupt system of APC and PDP, they are all part of the game. It is the game that Obi is against and that is what I told them. All those who are oppressed under Fulani hegemony, they are behind Obi and it is the youth who want to get themselves out of the bondage. And those who are still living under the bondage, I don't blame them, let them continue to live under it.
Some people are looking at the forthcoming elections as having descended into ethnic rivalry. What is your opinion on that?
The whole thing is ethnicity, we are all living in denial. What did Ango Abdulahi mean when he said when they win the presidency, North will keep it forever? Then we all pretending. And because we refused to pretend, that's why we are challenging the situation on ground. Why do we have Federal Character in our constitution? When it is the turn of South, Obasanjo had it. It went to the North; Yar'Adua had it. It came back to the South, Jonathan had it. It went back to the North, Buhari took over. Then it should come back to the South again. Is it the West that has not had it or the South-South? Is South-East not part of Nigeria? I already had South-East in my mind even before any of the parties' primaries. I didn't know whether Obi was coming out. I was supporting him on principle laid down by my leader, Chief Obafemi Awolowo, that anything that combines us together, we are going to share it equally. The moment we begin to discriminate against a particular ethnic group in a federation, forget the federation. You can't deceive yourself. This APC is now pretending to be working for all Nigerians. Is there no Igbo man in APC that is strong enough to be its presidential candidate? Is there no Igbo man in PDP for them to have as their candidate? They all think they can pull the wool over our eyes, no! I have said it and I am repeating it, this time, we either bend or break. Come to constitutional right, come to the way we all agreed to stay together; the moment you failed to follow the agreement, forget it. I say and I want to repeat, what the Northerners are trying to do, they want a Nigeria under their own terms, it will not work. They should forget it. We will resist with all the things available to us. How can anybody come and deceive us, saying that we are under democracy.
---
SUBSCRIBE TO OUR NEWSLETTER NOW
---
Support MATAZ ARISING' journalism of integrity and credibility.
Good journalism ensure the possibility of a good society, an accountable democracy, and a transparent government.
We ask you to consider making a modest support to this noble endeavour.
TEXT AD: To advertise here – Email ad@matazarising.com
LATEST POSTS
MaTaZ ArIsInGTexas A statement by the ministry ordered the affected appointees to hand over the affairs of their offices to the most senior officers in rank.   The Minister of the Federal Capital Territory, Nyesom Wike, has approved the immediate termination of the appointments of 21 heads of parastatals, agencies, and government companies of the FCT…

---

MaTaZ ArIsInGTexas I AM ALSO NOT A DRUG LORD, CULTIST… Popular Nigerian singer, Azeez Fashola aka Naira Marley on Tuesday said he's making arrangements to return to the country to assist the ongoing investigation over the death of his former signee Ilerioluwa Oladimeji Aloba aka Mohbad. The Marlian boss made this known in a statement…

---

MaTaZ ArIsInGTexas Popular Nigerian journalist Kemi Olunloyo reveals that Sam Larry is the alleged father of Mohbad's child after doing her investigations. The controversial journalist made this assertion to all and sundry in her latest Instagram post today, September 25 adding that the investigation has been submitted to the police. This comes after Kemi Olunloyo…

---