It was not the first time the controversial senior lawyer faced embarrassment for sharing fake images for political propaganda online.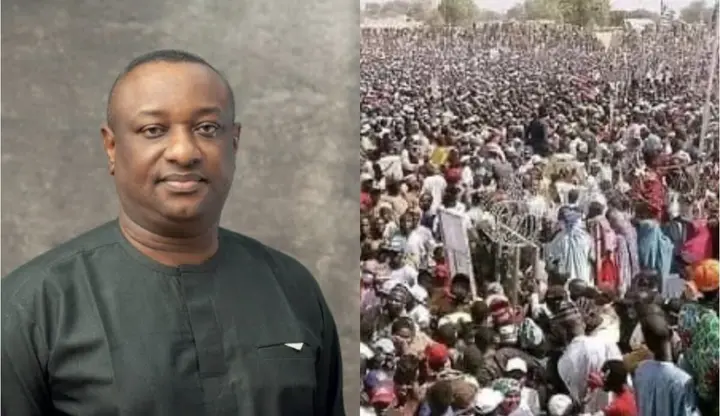 Nigerian labour minister Festus Keyamo was rebuked on social media on Thursday after circulating stolen from Chicago images to misrepresent the turnout of supporters for Bola Tinubu's campaign rally in Sokoto on Thursday.
Mr Keyamo, a senior lawyer and spokesman for the ruling All Progressives Congress' presidential campaign panel, tweeted the pictures on his Twitter account, which he captioned the "mother of all rallies."
"More pictures from the mother of all rallies in Sokoto! The signs are all there for all to see! But they are playing! Make dem dey play!! In about a fortnight, the jungle will mature!!," the tweet read.
The photo Mr Keyamo shared was from a music festival which took place in 2021 in Chicago. The picture had gone viral at the time for a massive violation of the COVID-19 protocols as many people gathered without protective measures at the peak of the pandemic. 
Mr Keyamo previously suffered public ridicule after using a picture featuring presidential candidates of the Peoples Democratic Party (PDP) and Labour Party, Atiku Abubakar and Peter Obi, in 2022. He claimed that the photograph was from a meeting where Mr Obi had purportedly agreed to work in favour of Mr Atiku's presidential bid, but the former director-general of the LP PCC, Doyin Okupe, debunked the report.
The falsification was seen as a cushion for the tough time that currently besets the party and its presidential candidate Bola Tinubu in the north region. 
The vice presidential candidate of the party, Kashim Shettima, in a recent outburst, alleged that the north as a geopolitical zone has not given him the expected support because of his Kanuri heritage. His comments exposed the dwindling support the APC continues to witness across the north in the twilight of its eight years rule.
Nigerians are due to participate in this year's general elections on February 25.
---
SUBSCRIBE TO OUR NEWSLETTER NOW
---
Support MATAZ ARISING' journalism of integrity and credibility.
Good journalism ensure the possibility of a good society, an accountable democracy, and a transparent government.
We ask you to consider making a modest support to this noble endeavour.
TEXT AD: To advertise here – Email ad@matazarising.com
LATEST POSTS
MaTaZ ArIsInGTexas A statement by the ministry ordered the affected appointees to hand over the affairs of their offices to the most senior officers in rank.   The Minister of the Federal Capital Territory, Nyesom Wike, has approved the immediate termination of the appointments of 21 heads of parastatals, agencies, and government companies of the FCT…

---

MaTaZ ArIsInGTexas I AM ALSO NOT A DRUG LORD, CULTIST… Popular Nigerian singer, Azeez Fashola aka Naira Marley on Tuesday said he's making arrangements to return to the country to assist the ongoing investigation over the death of his former signee Ilerioluwa Oladimeji Aloba aka Mohbad. The Marlian boss made this known in a statement…

---

MaTaZ ArIsInGTexas Popular Nigerian journalist Kemi Olunloyo reveals that Sam Larry is the alleged father of Mohbad's child after doing her investigations. The controversial journalist made this assertion to all and sundry in her latest Instagram post today, September 25 adding that the investigation has been submitted to the police. This comes after Kemi Olunloyo…

---