By Tony Okoroji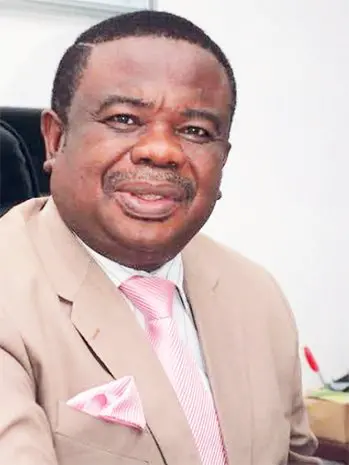 I have never met Yemi Osinbajo but I like him a lot. I like his poise, his choice of words and his personality. At the APC Convention, Yemi Osinbajo gave one of the greatest speeches I have ever heard from a Nigerian leader. The speech had vision, great intellect and it was articulate. But PYO was speaking to a wrong audience at a wrong occasion.
At the convention, the only speech that mattered was how many American dollars a candidate had for each delegate.
I have written here before that our dollar infested bullion van democracy is not about brilliance, competence or merit. It is a game of envelopes. Which candidate has the fattest envelopes with crisp dollar bills for delegates? I hope that Professor Osinbajo and his ilk have learnt the lesson which some of us have learnt and which has left a lot of the young people of Nigeria with so much disdain for the two leprous legs of Nigeria's recent democratic enterprise.
I have written here before that it has become very clear that the structures of the PDP and APC will never lead to the emancipation of the Nigerian people. Those structures were built for mercantilism and are terribly infested with the corruption virus. They will only lead to more hunger, more kidnapping, more insecurity, more joblessness, more stealing on a bigger scale and more hopelessness for the Nigerian people.
In Abuja, I met with some of the people behind the PYO movement before it went public and official. They were driven by passionate idealism and worked so hard. I discussed with them the contradiction of PYO being part of the bullion van democracy at play in Nigeria and his participation in the failed Buhari presidency. Before our eyes, the chickens have come home to roost.
I hope that PYO would, going forward to be a true Nigerian leader. He can no longer be a senator or a minister but he can become a national counsellor which he is qualified to be as a senior advocate. He can be a national preacher which he is qualified to be as a pastor and he can be a national teacher which he is qualified to be as a professor.
The same young idealism that drove the PYO movement is to a larger scale driving the biggest political movement in Nigeria today, the Peter Obi Revolution. I hope that my good friend, Doyin Okupe, who is a key driver of the Peter Obi Movement would put a call to Ojodu Babafemi who worked so hard to make Prof Osinbajo President. There might be a few lessons to be learnt.
It appears that the young people of Nigeria, the same age group that drove the #endsars movement have caught a new fire and have concluded that for Nigeria to achieve true greatness, an end must be brought to our current bullion van democracy. It is apparent that a new structure is required that truly belongs to the young people of Nigeria for the repositioning of the Nigerian nation.
Every day, it is becoming clearer that a lot of young people have caught the spark in the moral leadership which Mr. Obi seems to exude, the kind of leadership that is so absent in the bullion van democracy that Nigerians have experienced, and which has brought our nation to its knees.
There are things that the Peter Obi Movement must do not to end up as a big disappointment to the army of young people from practically every part of the country who have become inspired by the gentleman with a falsetto voice. This army looks up to him to lift them out of their misery and bondage. The idealism must remain but the following practical steps must be taken:
Number One: The Peter Obi campaign must not be funded by Peter Obi. There has to be an independent, transparent and accountable financial platform set up immediately to which the average Nigerian who is "obedient" can contribute his N100 or N1000 and ensure that the campaign is funded by millions of people and that the man at the center remains permanently answerable to the millions and the bullion van system of election funding is extinguished in Nigeria.
Number Two: Everything must be done to ensure that all those who are obedient to the new movement have genuine PVCs and that the PVCs are deployed on voting days.
Number Three: Absolute care must be taken to ensure that the movement remains a pan-Nigerian movement and does not wear any ethnic, tribal or religious colours.
Number Four: While social media continues to be a major tool and driver of the campaign, every supporter of the movement must understand that we must reach the grassroots and that all of us are campaign agents and that we must start campaigning and convincing people immediately in churches, mosques, motor parks, markets, shopping malls, universities, social clubs, town unions, barber's shops, hair dressing salons, mechanic workshops, carpentry sheds, etc. This game is a game of numbers.
Number Five: The obedient supporters of this exciting new movement must stuff their ears to the chorus of Nay Sayers who will continue to tell them that Peter Obi cannot make it because he has no structure. While it is possible in the bullion van system to buy two thousand delegates, no one has enough dollars to buy the close to 50 million Nigerian voters that may be voting in 2023. The people are the true structure.
Number Six: It must be understood that beyond just electing a president, the movement must elect new local government councilors, state assembly members, governors, representatives and senators so as not to have a President surrounded by vampires with the bullion van mind set. In other words, vote for a complete Labour Party ticket.
As I have written before, I have no doubt that Peter Gregory Obi will do very well as a candidate in the general elections. He connects well across the board: age, intellect, tribe, religion, etc. He connects as a leader with a moral compass and strength of character and he is inspiring the young people of Nigeria to seize the immense opportunity at their disposal and lift this country out of hopelessness.
There are those who say that Peter Obi will not get anywhere because without the present virus infected structures provided by the PDP or the APC, you cannot be the president of Nigeria. These people do not believe in change. We move!
---
LATEST POSTS
SUBSCRIBE TO OUR NEWSLETTER NOW
TEXT AD: To advertise here – Email ad@matazarising.com