By Abuchi Obiora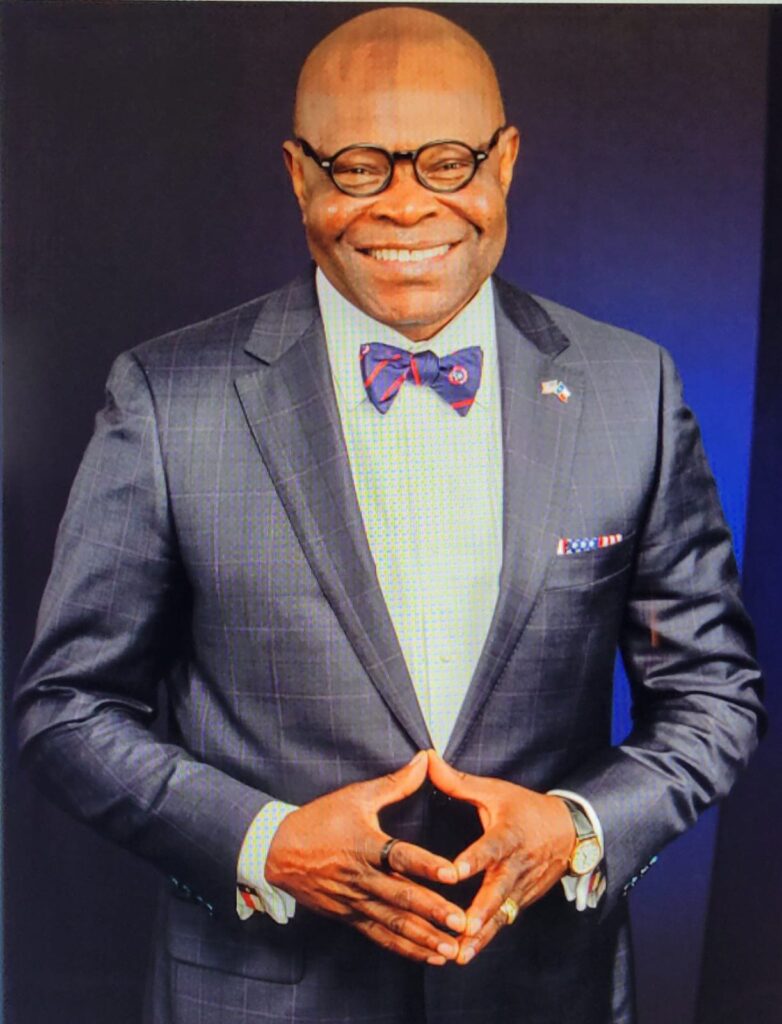 I have seen, heard and read many true life stories of people but none of them has ever underscored the deep courage and re-making of one's destiny shown in the story of the African wonder boy, who, by choice, abandoned the pomp and pageantry of his African royal heritage, went to the United States of America to become a busboy, and now aspires to be a member of the U.S. congress after equipping himself with all the things he needed to become a U.S Congressman.
Perhaps, another true life story which quickly comes to my mind that closely resembles the story of this African wonder boy is the story of Dim Chukwuemeka Odumegwu Ojukwu, who, also by choice, abandoned the wealth and affluence of his father's successes in business and contact in Buckingham Palace, to enlist in the Nigerian Army as a junior officer after obtaining a degree from the prestigious Oxford University, England. Dim Chukwuemeka Odumegwu Ojukwu, son of Sir Odumegwu Ojukwu accomplished this feat when there were no University graduate applicants or even graduate officers in the Nigerian military service.
The story of Edward Ejike Okpa Jr. is enigmatic, yet it is true. A Prince of Ihe town in Awgu Local Government area of Enugu State, Ejike was born a son of the great Echelibe, Late Chief E.E. Okpa, the traditional ruler of Ihe town, a standard bearer, philanthropist and a foremost traditional authority in post-colonial province of Enugu, Nigeria. In search of excellence, greater and universal responsibility, Ejike literally relinquished his princely background and possible ascension to the throne of his father for the real thing which he sought and found in the United States of America.
The success story of Edward Ejike Okpa Jr. who, by choice worked assiduously to swap his African traditional royalty with American statesmanship becoming a political star of the Republican Party in the United States of America, and a personality who consecutive Presidents, Governors, Congressmen, and Mayors have been very happy to work with and entrust responsibilities on, is a rare and uncommon story of foresight, focus, confidence and courage. It is a story that confirms that because the red pigment of the blood of all human beings flows across all human races – Red Indians, Arians, Asians, Americans, Blacks, etc., capacity building is a matter of choice and endeavors not restricted to any particular human race, colour or creed.
Ejike and I have known each other since our elementary school days shortly after the Nigerian civil war and later became very close friends as freshmen at the great Merchants of Light School, Oba in Anambra State of Nigeria. Both of us studied together every night sitting facing each other in one desk during the evening 'prep' before observing junior 'lights out' by 9:00pm every night.
We were both young and innocent and I remember we both were very sad with tears on our eyes the day my father drove me to the school to permanently pull me out of Merchants of Light School, to enroll me in Dennis Memorial Grammar School (D.M.G.S) Onitsha, to be close to the family house in Onitsha as a result of some health issues and on the advice of Dr. Ezeka Okafor, our family doctor of Beks Memorial Hospital, Oguta Road, Onitsha.
For the purpose only of fanfare and to satisfy normal public inquisition, let me digress here to say that Mr. Iyiegbu, then a young man and our Mathematics Teacher in Merchants of Light School, Oba, is the father of the celebrated Anambra State multi-billionaire, Obinna Iyiegbu of the Obi Cubana fame. While his family house was in Enugu, Ejike spent his holidays with his uncle, Mr. EC Okpa at 14 Paterson Street. I was living with my parents at our family house in 13 Sheba Street. Both houses were located in the Nupe settlement area of Onitsha, popularly referred to as 'Fegge.'
My fresher year experience in the great Merchants of Light School, Oba, have remained indelible in my mind since fifty years. Till date, I can still recite, inter alia, some of the literary verses which our very erudite principal, D.I.S. Anyachebelu fed us with. A cute gentleman and a seasoned educationist groomed in the British imperial tradition of excellence, D.I.S Anyachebelu taught us to speak what he called 'Queens' English, not forgetting to tell us to always comport ourselves with decorum. Morning Assemblies with our Principal were separate tutorials on discipline, maintaining order and comportment and these surpassed the academic knowledge imparted to us during the normal lesson periods.
Nnamdi, the huge senior bully boy, whose school nickname was 'Canta', was given the highly coveted position of the school Senior Prefect in our fresher year. I remember him giving every member of the school, including his "A Level" colleagues and classmates in Upper and Lower Six ( like Mr. Victor Ezekwo whose nickname in the school was "Soul
Priest", who also presently sojourns in the U.S) a mass punishment of writing out a thousand times and submitting within forty eight hours, the sentence, "It is sacrilegious for me a human being to shuffle my legs in the chapel". In the previous day's in-house Christian worship, (we were required to go down in a single file to the St. Peter's Anglican Church Oba, for church service every Sunday), the students, feeling that the preacher was wasting their time, started shuffling their legs on the floor of the chapel.
I also remember that Ejike and I were sitting opposite each other on that night of our 'prep' when I fell sick and eventually taken home to Onitsha the following day to be re-located in D.M.G.S. I missed Ejike then and Ejike recently told me that he was very lonely thereafter, having a feeling of losing the company of a brother when I did not come back to continue in Merchants of Light. I left Ejike with Chike Anyaorah, first son of the popular owner of Rex Photographers, Zik Avenue, Onitsha. Chike was another member of our company in Merchants of Light. Though Ejike had an aristocratic heritage, Chike and I were from the Upper Middle Class landowning parentage and were then equally regarded by the society.
Migrating to the United States of America in 1984 after obtaining top grade in his first degree from a Nigerian University and after serving his term in the mandatory National Youths Service Corps (NYSC), Ejike started out in the United States from the humble beginning of a 'busboy' and eventually graduated with honours for his Masters Degree from the prestigious and highly-rated Harvard University, thereby adding to his curriculum vitae, the coveted benefit of being an alumni of one of the most regarded and respected learning institutions in the world.
In Ejike's words, "I went from working as a "busboy" at a hotel to Heading the Appraisal function as Regional Appraisal Manager at FDIC as Receiver over 8 states in the United States of America". Since 1995 when he became a U.S citizen, Ejike has known and worked with three Governors of Texas, notably George W. Bush (1995-1999), Rick Perry (2000-2014) and the present Governor, Greg Abott, who became Governor in 2015. Two of these Governors have visited his home in Dallas, a stronghold of the Republican Party where he presently seeks to become their Congressman. One of these Governors, George Walker Bush, the 46th Governor of Texas, later became the 43rd President of the United State of America. Having been a regular visitor to the White House for several decades during the tenors of many U.S Presidents, Ejike has also been a close political associate of
several batches of U.S Congressmen whose election victories he doggedly participated to secure in his home state of Texas since he became active in U.S politics.
Appointed by the United States of America, Ejike has served (and is still serving) as member to several agencies of the U.S government and other multilateral corporations around the world. As an Economist, Real Estate Consultant and Global Analyst on socio-political matters, Ejike has consulted for many countries in Africa, Europe, Asia, his home country America and the Middle East where he has worked with the representatives of the rich kingdom of Bahrain. Appointed by the Texas Governor, Greg Abott, Ejike is presently a member of Texas State Securities Board.
The former "busboy" Congressman-in-making has multiple business interests in his home state of Texas, and around the world. He worked very closely with the immediate past President of the United States of America, Donald Trump in both their business interests and their Republican Party interests.
For me, I think that it is a rare privilege not available to many people that both Ejike and myself, very close friends innocently glued together by real, unquestionable love and affection in our teenage years, are alive today after more than fifty years to continue to be friends and share our experiences along the journey of life, still making efforts also to contribute the little we can to the advance of the human community on earth.
One of the things I found out about Ejike over these fifty years is that he keeps intelligent and serious companions over a long period of time. He avoids you when he feels that your intentions and ways are no longer in consonance with his. He does this quietly without letting you know or even commenting on it. A sincere and true friend who is committed to relationships not in the material forms that most people will always expect, Ejike is a great achiever and a man with a resolute passion for success.
He has served his country, the United States of America and his home State, Texas in different capacities and at different times. He has also created an undeniable record of service in his Dallas community where he has lived an exemplary life of service. All these and more are what he is telling his enlightened and discerning audience as he cress-crosses the nooks and crannies of his immediate environment and the internet dispensing the good news of his electioneering campaign .
Brutally frank, humble, straightforward and a hardworking man of unimpeachable character, Ejike is a self-made achiever who always believes in, and executes the ideas that generate from his rich, deep, very clear and focused mind. As Edward Ejike Okpa Jr. files out with other contenders to the Texas Congressional District #32 election on 1st March 2022, I have no doubt that these huge assets in character and self-development will avail Ejike the opportunity to serve a community and people he has, by choice, decided to live with, die and be buried amongst, especially as America has the most enlightened and discerning electorate in the world capable of choosing the best from the rest.
Let us all, for the sake of promoting excellence link up to www.okpaforcongress.com or donate via https://secure.winred.com/okpa-for-congress/launch, and encourage one of us, this great achiever, to excel in the very competitive U.S politics where only the best emerges.
To America, we Africans have given one of our bests, and we expect in return, the best consideration in international relations from the United States of America to Africa.
Please visit www.okpaforcongress.com
Thank you.
ABUCHI OBIORA
Please share with your friends and family that reside in district 32 (as shown in the map above) to ensure they go and vote for our brother EE Okpa. This is our chance as Nigerians to throw our weight behind this Nigerian American to ensure he makes it to Washington, in the US Congress, where decisions that affect not only Nigerians in the US, but across the world over are made. We need him at the power table.
Also your $1, $2, $3, $4, $5, $10 will go a long way in helping his campaign scale over the primaries and ultimately the general elections in November. (The primaries begin on February 15, 2022 – March 1, 2022.
Thank you
---
LATEST POSTS
SUBSCRIBE TO OUR NEWSLETTER NOW
TEXT AD: To advertise here – Email ad@matazarising.com