By Ayo DADA
Oluwatobiloba Ayomide "Tobi" Amusan (born 23 April 1997) is a Nigerian track and field athlete athlete who specialises in the 100 meters hurdles and also competes as a sprinter. She Won the 2018 Commonwealth Championship and was 2019 African champion in the event. She is also a two-time African Games champion, and on Thursday night added another feather to her cap when she won the Golden League 110 meters hurdles event.
Oluwatobiloba Amusan is one of the thousands of gems we produce in Nigeria, however, unlike way too many of those gems whose talents wasted away and are wasting away because they have the misfortune of being born in Nigeria with no opportunity to leave the country, Oluwatobiloba was able to leave Nigeria for the United States where she has been able to refine her talent.
There are many, too many Nigerian athletes who have jumped the ship when the opportunities came to naturalise to foreign citizenships, thereby switching their allegiance to their newly adopted countries and they represent those countries at international, and other world sporting events, from boxing to kickboxing, to athletics, to football, to name but a few, athletes of Nigerian origin are excelling in their chosen disciplines, and are being well compensated and rewarded for it. Who can blame them? Not anyone in their right minds because their country of origin is a graveyard of talents for reasons Nigerians and the world know much about.
This is why Oluwatobiloba Amusan should be highly appreciated, compensated and rewarded for her achievements by the Nigerian government, especially the latest one where she won the Diamond League 110 meters hurdles event. Tobi Amusan became the first Nigerian to win the Diamond League Final on Thursday in Zurich, Switzerland when she won the women's 100m hurdles, breaking Glory Alozie's 23-year African record with a time of 12.42secs.
It is indeed a big deal because, unlike the Olympics, the Commonwealth games and other athletics meets around the globe, the Diamind League is a season long one where points are won after every event, and for her to have won the trophy, she must have won the event more than any athlete during the season.
I am not sure if Oluwatobiloba is a naturalized United States citizen but almost certain she is because America recognizes talents and will do all possible to get them naturalized so they can represent the country. So, I will not be surprised if Tobiloba is a US citizen.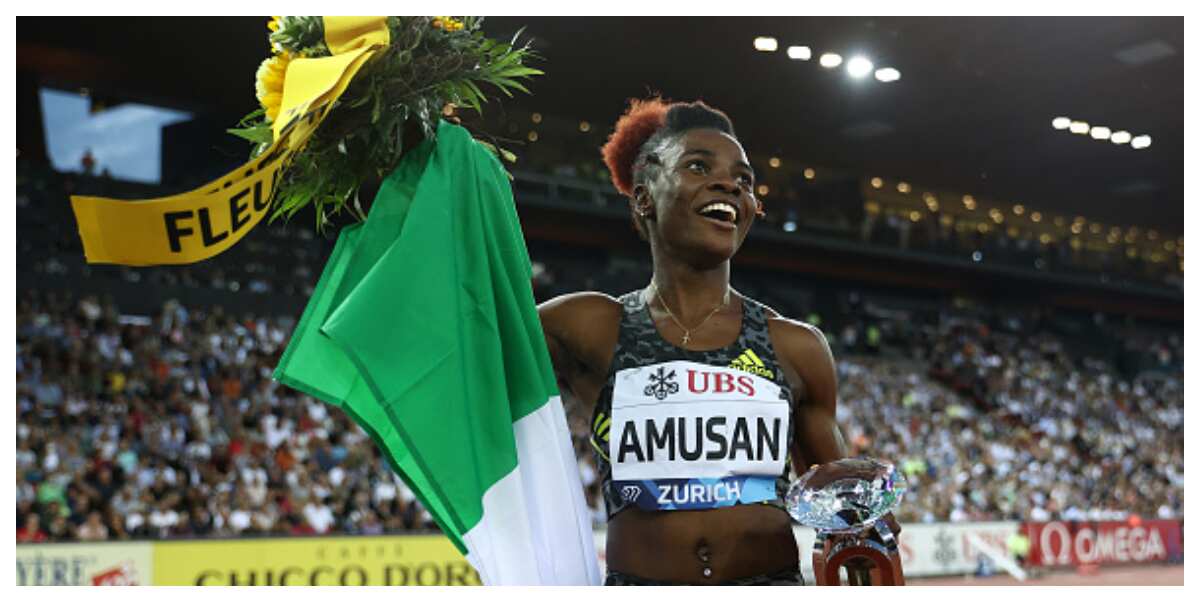 Therefore, for Oluwatobiloba to have decided to continue to represent Nigeria is a massive deal and highly laudable, it is something every Nigerian has to commend because it comes with a huge financial loss the the track superstar.
Representing the United States would ensure that the endorsements from big businesses like Nike, Adidas, food and other companies keep rolling in.
Please permit me to slightly deviate while I am on this topic, noone can convince me that Jamaica the superpower of sprint, a much smaller country than Nigeria has more talents in that event than Nigerians, it is our governments, past and present and our system in this country that have killed and continue to kill the dreams of our youths. But for Nollywood, and the music industries, the social media, which have come to the aid of our youths and young talents, the drug addiction in Nigeria which have reached an epidemic proportions amongst our youths would have been much worse. Many of our Amusans, Anthony Joshuas, Iheanachos are losing their minds to drugs, they are dying needlessly because of bad roads, dying in the hands of terrorists called herdsmen, sprinters wanting to sing or act, and so on.
On behalf of millions of Nigerians Oluwatobiloba, I congratulate you on your achievements on your successes in your sport, I thank you for your patriotism in representing Nigeria despite the disadvantages of such a decision, very sad to say, but with you and others like you as role models, perhaps, Nigeria will build a system that allow talents to reach and even exceed their potentials, well compensated and rewarded to end talents deaths and drain.
May God bless you, may God bless Nigeria.
LATEST POSTS
JOIN OUR MaTaZ ArIsInG COMMUNITY!
SUBSCRIBE TO OUR NEWSLETTER NOW
Our newsletter gives you access to a curated selection of the most important stories daily.

Eyewitness? Submit your stories now via:
Email: ad@matazarising.com
TEXT AD: To advertise here – Email ad@matazarising.com