By Tope Akinnola
While we await the DSS to invite Professor Kunle Olawunmi, a former Navy Commodore, for interrogation, or maybe investigation, for his audacious claims that current governors, senators and certain Aso Rock officials currently in government are Boko Haram and terrorism sponsors, we already know that his claims are in tangent with what a former deputy governor of the Central Bank of Nigeria, Obadiah Mailafia said in August 2020, when he stated that some so-called "repentant terrorists" revealed that a serving northern governor is a Boko Haram leader/sponsor. For Obadiah's spilling the beans, he was invited, harrassed and intimidated by the DSS in an ordeal that rattled the gentleman.
Will that also be the case for Navy Commodore Olawunmi (retired) who has spent well over three decades of service in military intelligence and who is also a professor of global security studies at Chrisland University?
As we do wait, there are critical questions to ask and there are critical observations to make. But first, kindly let me respond to those who are quick to excuse the recent attack on the Nigerian Defence Academy (NDA) with the impotent and imprudent argument that there is no big deal about it since there were terrorist attacks too under Dr. Goodluck Jonathan's failed government (I call it "failed government" because it failed the Nigerian people too). And, I consider this line of reasoning as an "impotent and imprudent argument" because of the fact that the spate, rapidity and volume of attacks and casualties from terrorist activities that are existent today is perhaps more than 3 times what took place under the equally failed Goodluck Jonathan administration. That's aside the dramatically increased volume of internally displaced persons from these terrorist activities.
As it is today, the Nigerian security architecture has failed woefully under the Buhari administration, significantly because there are terrorist sympathisers and informants now in almost every segment of government — a thing for which this government should cover its face in shame.
In addition, you should remember clearly how Mr. Buhari led a public protest and how he clearly stated that Jonathan should resign because of the insecurity that had befallen the country at that time. In fact, Buhari campaigned under the guise of being the man to fix the insecurity that had befallen the country. Unknown to most pundits, the Buhari administration would turn out to be a terrorist-sympathiser-accommodating government and the worst government in the annals of the country's history in terms of insecurity, which has become the albatross of every well-meaning Nigerian in modern times.
This issue, as I see it, is beyond the breach of Nigerian Defence Academy [the nation's pride like West Point Military Acdaemy is to the Americans] or the brutality with which three military officers were shot dead by terrorists [I don't join the bandwagon to call them bandits, but terrorists, for that's who they are!]. Instead, this issue is about the [and I dare to say] coordinated (or induced) failure of the country's security architecture in systemic fashion — a horrifying development for any right thinking person.
I will concede however, as a critical thinking and fair minded person, that in terms of transport infrastructure, the Buhari administration has indeed scored a few good points no doubt — we even hear that there is a transport university being built in the president's own town of Daura in Katsina; and also that a railway worth billions of dollars is being [or about to be] constructed to link the country to Niger Republic, home to the president's cousins — that's great! Isn't it? (Who wouldn't use their position of power to benefit their cousins these days? — in Africa, that is!)
Nonetheless, when it comes to insecurity, the Buhari administration has scored an abysmally low mark.
Now, we know why. At least, in part. A house divided against itself cannot stand. Or can it? When we have snitches and sponsors of terrorists in the "house," how then can the "house of Nigeria" stand?
And by the way, another additional empty reasoning that the Nigerian Defence Academy attack "might be politically designed to embarrass Buhari" as suggested by one of the president's spokespersons, Garba Shehu, is not only insolent and incoherent but also belongs in the garbage can. This attack and several others are merely symptoms of a malignant tumour, the root cause of which significantly involves individual and institutional sponsors and patrons of terrorism dining and wining in the corridors of power as we speak.
To rubbish Garba Shehu's crestfallen and miserable reasoning further, the military authorities have released preliminary findings that indicate that the way the attackers broke into five apartments at the NDA residential quarters and swiftly escaped before the guards could respond to the situation as well as the successful abduction they carried out during the operation suggested that the assailants might have collaborators within the military training academy. That's more than plausible.
Perhaps Garba Shehu would also say that the shooting down of a military fighter jet recently by terrorists might also have been politically motivated. Or, that the brutal slaughter of over 40 farmers by beheading on their farms some months back was politically motivated. Or that the kidnap-for-ransom carried out by these fundamentalist terrorists might have been politically motivated. The kidnap-for-ransom strategy was borrowed and adopted by Boko Haram and Nigerian terrorists from ISIS (the Islamic State) gang.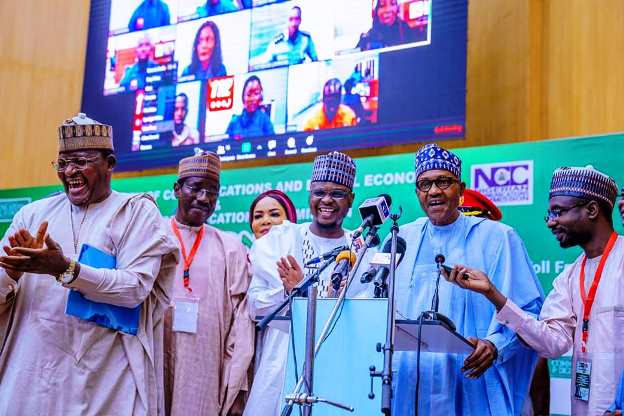 Let me prepare to wind up now by asking the following critical questions, for which if you have genuine answers to, I will appreciate deeply:
Why has the current Buhari administration not prosecuted the arrested Bureau De Change operators caught facilitating the transfer of money to Boko Haram terrorists?
Why has the Buhari government refused to prosecute the hundreds of Boko Haram sponsors penciled down by intelligence agencies?
Could it be true that the DSS has information on Boko Haram and terrorism sponsors but can't act without President Buhari's order, or affirmative body language and go-head to do so?
What exactly is President Buhari afraid of? Who does he owe an explanation? He is the Commander-in-Chief. Or, is he not?
Since so-called banditry, terrorism, Fulani herdsmen killings are closely and empirically associated with open grazing, what is difficult for Mr. Buhari to understand about that? And why is he adamant that open grazing routes should become operative within the length and breath of Nigeria instead of encouraging modern techniques of rearing cows as obtainable in civilised societies?
As we contemplate the above questions, please remember persons like Mr. Abubakar Adam who has not seen seven of his 10 children in the two months since these savage armed terrorists snatched them from their boarding school in Niger state. Abubakar had to sell his car, land, wipe out his savings; and alongside other fellow parents sought help from friends and relatives to raise 30 million naira to get their children back. But the terrorists merely took the money, and even went further as to abduct one of the men that delivered the money to free the hostages, which eventually left this hurting father with nothing!
In conclusion, to me, terrorism is like a tree that is planted and nurtured and that grows with branches extending here and there. It doesn't matter how many of the branches of this tree that you cut off or pretend (feign, claim, intend or appear) to cut off, as long as the root of the tree is intact or in place, new branches will always grow out and still extend further. The root of the tree of terrorism is made up of the patrons, supporters, the sponsors or financiers, and protectors of these terrorists and the attendant crude savagery that follows; and until we deal with and decapitate the enabling culture, and the sponsoring and financing of these terrorists, as a clear and pointed example to others in the country, Nigeria would continue on the endless ride of self-deception and self-destruction.
Tope Akinnola
LATEST POSTS
SUBSCRIBE TO OUR NEWSLETTER NOW
TEXT AD: To advertise here – Email ad@matazarising.com