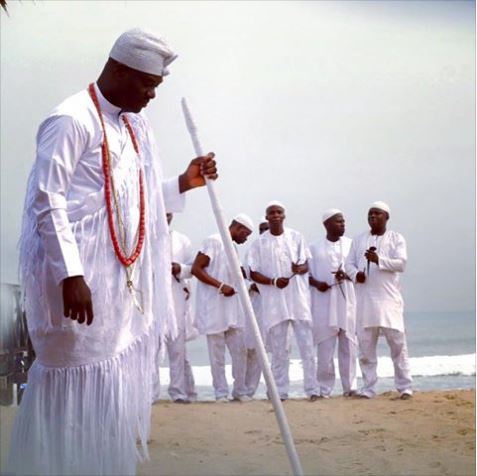 Symbolically, the Ooni inaugurated the 28-man committee on Thursday in Lagos at the location where Obafemi Awolowo founded Egbe Omo Oduduwa.
The Ooni of Ife, Adeyeye Ogunwusi has inaugurated a 28-man Yoruba think-tank known as "Ooni Caucus" to deliberate on the present circumstances and the future of the Yoruba race.
Members of the think-tank include: Deputy Chairman of the Oyo State traditional Council, the Olugbon of Igbon, Oba Olusola Alao; Senator Biodun Olujimi, Toyin Saraki, Segun Awolowo, Doyin Okupe, Otunba Gbenga Daniel, Prince Oye Oyewumi, Muyiwa Ige and General Olu Okunnowo.
Others include: DIG Taiwo Lakanu (retd), General Secretary, Afenifere, Mr Sola Ebiseni; Jimi Agbaje, Sola Lawal, Debola Oluwagbayi, Dupe Adelaja, Dele Momodu, Senator Tolu Odebiyi, Dr Olusegun Mimiko, Dr Seun Obasanjo, Makin Soyinka, Dele Adesina (SAN), AIG Tunji Alapinni (retd.), Dr Reuben Abati, Eniola Bello, Bimbo Ashiru, Senator Tokunbo Ogunbanjo and Dapo Adelegan and Professor Akin Osuntokun.
This is coming days after Yoruba activist Sunday Adeyemo, also known as Sunday Igboho was arrested in Cotonou, Benin Republic, days after his home was invaded by SSS operatives.
The Ooni, an imperial monarch in Yorubaland, charged the group to look into the issues surrounding the arrest of Igboho, who has been at the forefront of agitation for self-independence for Yoruba ethnic group amongst other issues of Yoruba interest.
SUBSCRIBE TO OUR NEWSLETTER NOW
TEXT AD: To advertise here – Email ad@matazarising.com