by Ayo Dada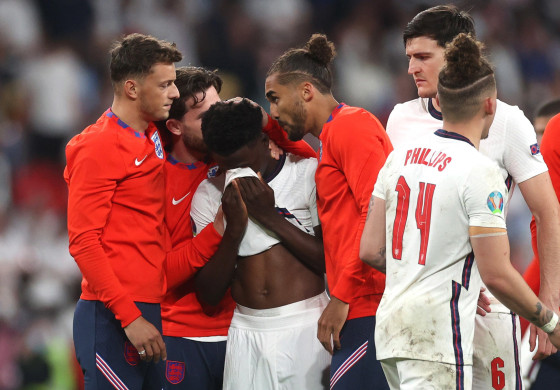 CLICK ON THE LINK TO WATCH VIDEO: https://www.facebook.com/mataz.arising/videos/527918244999697
"LONDON — When Bukayo Saka, Marcus Rashford and Jadon Sancho missed their penalty kicks for England in the Euro 2020 football final on Sunday, many fans sensed a grim inevitability about what happened next.
These three gifted, young Black men were among those who stepped up during a moment of huge pressure — England's first major final in 55 years — only to have their their social media accounts flooded by racist abuse after the defeat to Italy at London's Wembley Stadium". – Alexander Smith, NBC NEWS.
Seven of England's starting 11 against Italy had a parent or grandparent born overseas, according to the U.K.'s Migration Museum. The parents of Saka, 19, are from Nigeria, and those of Sancho, 21, are from Trinidad and Tobago. Rashford, 23, has grandparents from Saint Kitts.
I am not surprised at this unfortunate but yet predictable outcome the minute Saka lost his spot kick. This is the default for these thugs which are a sizeable section of the English fans. I have African friends who are British citizens but do not support the football team, or at any sports competition, simply because of what happened to these black players on Sunday July 11, 2021, and because of the false superiority complex of the English in everything they do.
These racist yobs and thugs are quick to forget that, but for the same Bukayo Saka, who had won the man of the match awards for the English side for all their 3 group games, Sterling, who has always suffered serious racist abuse of his own from the English press, and the English fans, whose 3 goals ensured that they qualified for the knock out stage, and Kyle Walker whose speed and tracking back at the back at their group stage were the reasons they progressed from the group stage and also the reason they beat Germany, and to make it to the final.
The truth is this, these thugs are always looking for who to blame and it's always the black players. The truth about the penalty kicks was that most of the white players in the team had indicated to their manager Gareth Southgate that they didn't want to take part in the shoot out, and so opted out, only for the coach to go with the black boys, who I am sure would have been labelled as traitors had they also opted out; my guess. Instead of these thugs to be grateful to these boys for their outstanding display and bravery during the tournament, what got and getting, are racial abuse.
I feel bad for Gareth Southgate because he stayed true to his ideals as a fair-minded 21st century gentleman by taking those black players that helped England qualify for the championships to the finals. What has been the mode of operation of the coaches before him was that, they will use the black players to qualify for the championships, only for majority of them to be dropped for the less gifted white boys for the finals of those championships.
Truth be told, England is getting better with racism, but still has a long way to go, however, it has one of the most racist press in the western world, which will continue to make it harder for them to get to a place of accepting black people as 'human beings'. We remember how the English press treated Prince Harry and Princess Meghan that ran them away from England. Had Harry Cane been an Ian Wright with the bad game he had on Sunday and the white players were those that missed their penalty kicks, fans anger would have been directed at Wright and not those who lost their spot kicks.
Why would Saka, Tammy Abraham and the Nigerian British players choose England over Nigeria? Because it will help their careers, it will earn them 'respect' in Europe and in the game (whatever that means), with potential for huge endorsements and more profitable transfers. Besides, it saves them the headaches from the Nigerian Football Federation maladministration and incompetence that stem from the top. This is not about Buhari, as this has been the problem long before him. If we get our acts together in Africa, with our population, white players would be fighting to play in our leagues, and not the other way round.
Can anyone blame them for choosing England over Nigeria? No.
Africa's potentials and resources, humanly and minerally are being abused in every way possible. The Europeans took Africans as slaves hundreds of years ago, today, we are literally paying for them to take us, yet, as slaves.
To paraphrase professor Lumumba, AFRICA WILL NOT GET HERSELF TOGETHER UNTIL NIGERIA GETS HERSELF TOGETHER.
I rest.
SUBSCRIBE TO OUR NEWSLETTER NOW
TEXT AD: To advertise here – Email ad@matazarising.com