by Ayo Dada
Jumoke who was displaying drinks at her shop ran for her dear life when she heard gunshots, unfortunately, she was hit by a stray bullet from the police. Matazarising learnt that the girl was cousin to one of the PROs (Public Relations Officer) in charge of of the protest of July 3, 2021.
The young lady, who was said to be a yoghurt seller, was hit by the bullet in her stomach while running to safety. The mother of the deceased said during her interview that she didn't know who was in charge until she saw the PRO, and realized that he was her cousin. That was when she told him that, it was her daughter that the stray shot from the police killed.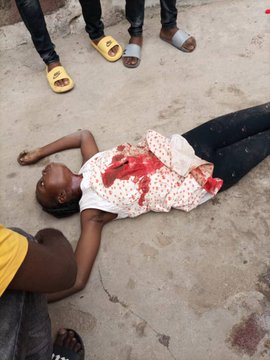 The PRO was said to have been devastated by the news. Bystanders who were mourning the unfortunate demise of the poor girl were said to have seen this as poetic justice, that, if one throws a stone into a market, it's one's relative that gets hit; that why were the police shooting at peaceful protesters?
SUBSCRIBE TO OUR NEWSLETTER
TEXT AD: To advertise here – Email ad@matazarising.com