By Babatunde Ajiboye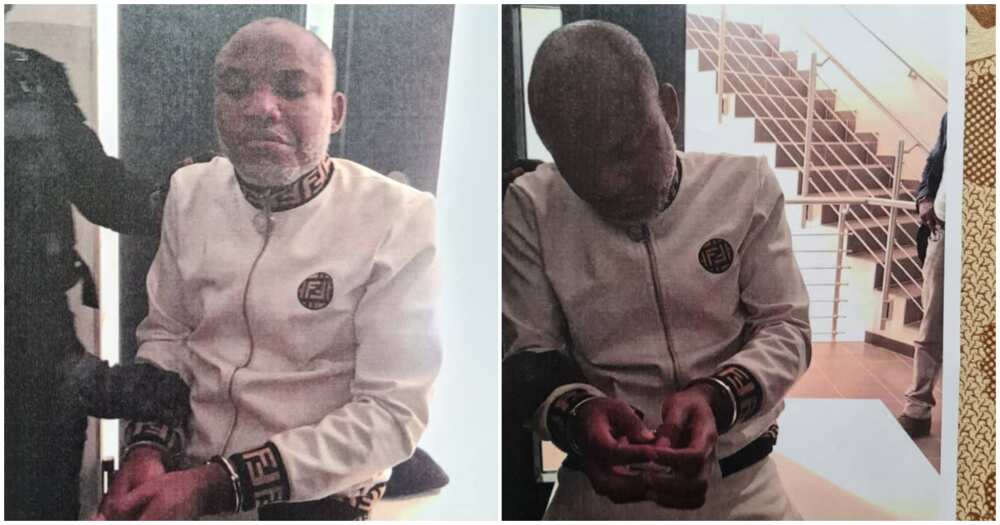 Nwanekaeyi Nnamdi Ngozichukwu Okwu-Kanu was born on the 25th September 1967 to the family of Eze Israel Okwu-Kanu and Ugoeze Nnenne Kanu in Afara-Ukwu community near Umuahia in Abia State. A University of Nigeria, Nsuka, dropout who later proceeded to Britain to conclude his education. A political economist who later became a real estate executive in the United kingdom. He was recruited by Ralph Uwazuruike in 2014 to head the Radio Biafra, a registered Radio Station in London. It was from there he began to propagate for the creation of an independent state of Biafra through independent referendum to comprise the states of the old Eastern Region.
It was no sooner that he had a disagreement with his former mentor, Uwazuruike, that he established his now poscribed Indigenous Peoples of Biafra (IPOB) which was labelled a terrorist group after the federal government approached the Federal High Court sitting in the federal capital territory, Abuja, in a judgement on 20th September, 2019.
He was first arrested and arraigned on 14th October 2015 on charges bordering on terrorism, money laundering, treason, gun-running and unlawful possession of firearms. He was granted bail in April 2017 by Justice Binta Nyako of the Federal High Court sitting in Abuja to Judaist priest and Senator Enyinnaya Abaribe and he was to deposit his travel documents at the court registry and to desist from engaging in any rally or issuing any inflammatory statement.
Having flouted all his bail, Justice Nyako revoked the bail she granted on March 28, 2019. He fled his Afara-Ukwu country home when he knew the security operatives were on his trail. He was to re-emerge at a place of worship in Jerusalem before relocating to United kingdom. He established the Eastern Security Network (ESN) while in exile, an organisation alleged to be responsible for the burning of several police stations, prisons and sabotaging many government facilities. It was said to be responsible for the killing of about 130 security personnel (mostly policemen). He has been making several inciting statements on his Facebook page and on Twitter, an action which the minister of information, Alhaji Lai Mohamed, said was one of the reasons why the federal government banned Twitter in the country.
THE ARREST
If anyone believes Kanu was arrested in the United kingdom as the Minister of Justice, Abubakar Malami recently announced, then that person can believe anything. Kanu, as a British citizen with a British passport will NEVER be repatriated by the government of the United kingdom as the Minister of Justice will have us believe. I have it on good authority that the arrest was a splendourous plan by the security operatives in conjunction with the Israeli secret service, Mossad, in the manner of the Umaru Dikko failed kidnap bid in 1984.
While the Umaru Dikko kidnap was a collaboration between Mossad Director General, Nahum Admoni and Nigerian security service agents led by Major Mohammed Yusufu (rtd) with the Nigeria Commission in Britain giving cover, that of Kanu was a clandestine and discreet stalking and trailing of their target. In the Dikko failed kidnap bid in London, a consultant anaesthetist and Director of Intensive Care Unit (ICU) at HaSharon Hospital in Tel Aviv, Dr Levi-Avie Shapin was recruited and caged together with the former Nigerian minister of Transport, only for his (Dikko) to alert Scotland Yard before he was discovered in a cage marked as a Diplomatic Baggage at the Stanstead airport. The Scotland Yard was alerted by Umaru Dikko's secretary, Elizabeth Haye. This incidence happened in June 1984 under the military regime of the then Major General Muhammadadu Buhari (mark the correlation)
In the case of Kanu, he was lured to Kenya by a very pretty prostitute who was recruited by the secret service operatives of Nigeria in a well coordinated plan. This writer have it on good authority that the secret police always have the fugitive on its radar until they succeeded in engaging a prostitute who was always at his (Kanu) service to lure him to Kenya where he was captured and bounded on a ExecuJet (a private charter airliner) plane on Sunday, 27th June, 2021 to Abuja. The plane was said to have touched down at the Nnamdi Azikiwe International Airport, Presidential Lounge in the wee hours of Monday morning. He was immediately whisked to the Directorate of State Services (DSS) Headquarters, Yellow House, Asokoro, Abuja.
ARRAIGNMENT
The fugitive IPOB leader, Nnamdi Kanu, was brought to the Federal High Court, Abuja, in hood today amid tight security. This reporter sighted a white Toyota Hiace van with all-tinted glasses at the premises of the court in while the security operatives sealed up the main gate of the court. This reporter was reliably informed that the fugitive seperatist leader was led to Justice Binta Nyako's courtroom through the judges entrance.
In a brief discussion with the prosecuting counsel, Shuaib Labaran, he said he was mandated to contact the accused person's lawyer, Ifeanyi Ejiofor, for a definite trial date on 26th and 27th of July, 2021.
This writer was reliably informed that Kanu told the presiding judge, Justice Binta Nyako that he fled the country because his life was threatened and he had it on good authority that the Nigerian military planned to kill him just like they killed several of his people. The judge advised him to be strong while facing his trial and that he should get in touch with his lawyers for and expidited trial. As it is, the accused person (Kanu) will no longer be admitted to bail conditions, hence an expeditious trial should be anticipated.
Babatunde Ajiboye 30th June, 2021 For Matazarising online publication.
STAR COMMENT: The biggest News in Nigeria today is that Nnamdi Kanu was arrested. The biggest news in Ghana today (June 29, 2021) is that Toyota has opened a plant there to build cars and sell in Nigeria.
Ghana is arresting poverty while Nigeria is arresting people! Why won't Ghana progress?
Nigeria banned Twitter, Ghana welcomed Twitter, Nigeria banned Cryptocurrencies, while Ghana is banking on his own Cryptocurrency.
One can now see that it is not the size that makes a country the Giant of Africa. The Elephant is the giant of the jungle, but it is the Lion that is the K\king of the jungle. Never be intimidated by a person's size.If a giant size is not accompanied by a giant intellect, it will end up as a giant liability – A FACEBOOK USER
SUBSCRIBE TO OUR NEWSLETTER
TEXT AD: To advertise here – Email ad@matazarising.com