by Ayo Dada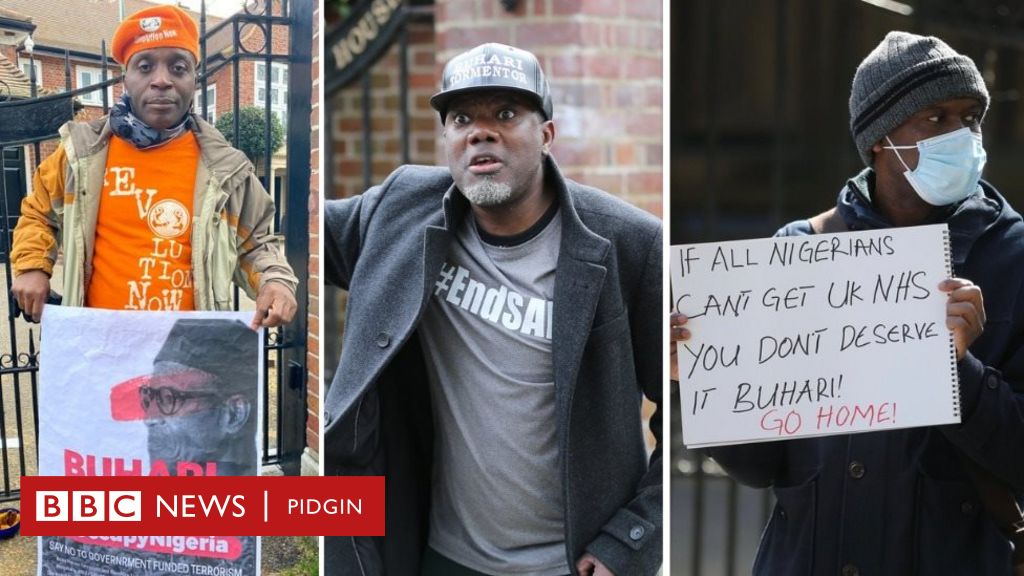 STATE HOUSE PRESS RELEASE
PRESIDENT BUHARI OFF TO LONDON FRIDAY FOR MEDICAL FOLLOW-UP
President Muhammadu Buhari will proceed to London, the United Kingdom on Friday, June 25, 2021, for a scheduled medical follow-up.
He is due back in the country during the second week of July, 2021.
Femi Adesina
Special Adviser to the President
(Media and Publicity)
June 24, 2021
When was the president's last visit to the U.K? For the 2nd time in how many weeks?
Who will foot the bills? On the Nigerian tax payers? These are questions for the president to answer..
Despite the fact that the Federal Government spent ₦6.4 billion on Aso Villa Clinic in six years. The question then becomes, what is the point of voting huge sums of money if the President cannot be looked after there? Is this not a waste of tax payer's money especially at this time of economic hardship in Nigeria?
Defenders of this president say that it is open to a lot of senior government officials and not to the president alone. To me that is a very lame excuse. The clinic should be good enough for the President rather than wasting tax payers money flying abroad. He should lead by example.
To the best of my knowledge, the clinic is not open to everyone to use, even if it is, it should be good enough for the President and his wife.
With the whopping sum of money the federal government spent on Aso Rock clinic, the President is still globe trotting for medical checkups/treatment? This is not good enough, because Nigerians are dying in droves for lack of good medical healthcare. Absolutely unacceptable!
President Buhari, the Mr. integrity even with this label, could not supervise that a first class clinic is operational in Aso Villa with all the yearly budgetary allocation since 2015, especially when he knows that he has health issues.
Buharis's supporters would like Nigerians to believe that they will not submit themselves to be treated in any facility that lacks the expertise or experience needed to fix their ailment if they have their way like Buhari does. What if the president has a terminal sickness that can not be managed in Nigeria? Nigeria has very good hospitals, and standard ones too, but lack good doctors, most of them need to update and upgrade. Forget titles, lots of them know nothing.
The above are their excuses and arguments, which are laughable. These people will stop at nothing to defend the hypocritical and incompetent president in Buhari, even if it takes insulting Nigerian doctors. What they are saying in effect is that there are no qualified or skilled enough doctors in Nigeria that can treat the President in Nigeria. Let's assume for a minute, that this is true, which is not, can't they fly in his doctors, or expert doctors from anywhere?

With the amount of money voted/allocated to the clinic at Aso Rock, the clinic should employ experts needed to run the facility. If the president cannot successfully administer a health facility in his compound, it is failure of the highest degree by the confused Buhari led APC government, and a huge indictment of the president and his government.
The truth is, we have well trained and experienced doctors in Nigeria who diligently care for the citizens on a daily basis. We must not forget the thousands of Nigerian trained doctors who are currently working outside Nigeria without anyone questioning their competence. There are about 5,000 Nigerian doctors currently practicing in the United States alone, and this does not include second or third generation Nigerians. Also, No fewer than 7,875 Nigerian doctors are currently practicing in the United Kingdom. They are not just doctors, but excellent ones. A president who has serious health issues should make healthcare delivery one of his priorities, stop the brain drain, and encourage Nigerian doctors to come back home with great incentives and packages.
Buhari should deep into his pocket like any other Nigerian that wants the best medical care abroad. Yes. it is the failure of respective governments and his that our hospital are not up to scratch, however, he campaigned on CHANGE, and our medical service delivery is one of the areas he promised to change for better.
His government is over six(6) years in power, he is yet to build one, just one good hospital in Nigeria, and I am sure he is not planning on building any. However, he seems satisfied with the yearly monetary allocation for Aso Villa clinic.
Let no one deceive us, Buhari's health issues can be managed in Nigeria, he is in the best position to make it possible. There is absolutely no justification for his regular medical treatment abroad. WHAT IS HE HIDING?
As he leaves for England for yet another check up, thousands of Nigerians are going to die avoidable deaths today due to lack of adequate healthcare delivery system. What a shame! Who cares? Definitely not Buhari.
SUBSCRIBE TO OUR NEWSLETTER
TEXT AD: To advertise here – Email ad@matazarising.com