by Dr. Wumi Akintide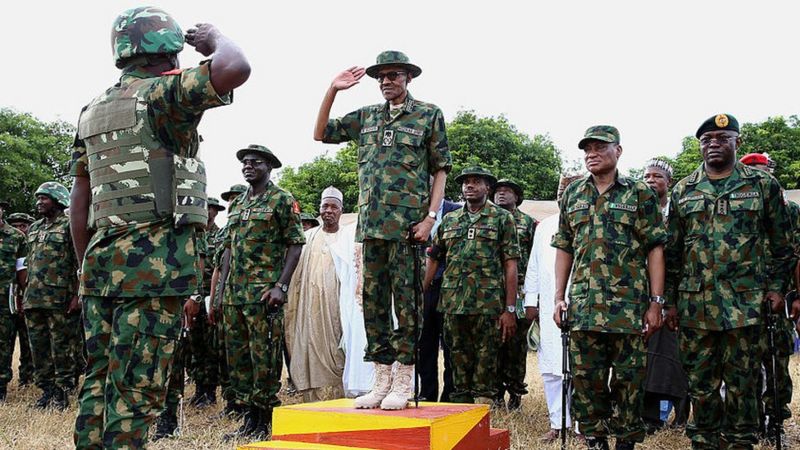 "Get one lose one" is a statement of wisdom in most Deal-Making in all rational countries except Nigeria.
Part of the reasons I am, sadly enough, siding with southerners who are rooting for the breakup of Nigerian because like the Oonirisa Arole Oodua Oba Babatunde Eniitan Ogunwusi had eloquently and brilliantly stated in his best speech he recently made in Abuja on the problem of Nigeria.
He courageously said that Nigeria could be said to be insane because he too has defined insanity like I do, as repeating the same mistake over and over again but expecting a different result.
The Kabiyesi had received a standing ovation for a speech delivered with the eloquence of a Cicero or a Winston Churchill.
The report published below by Newspoting published and edited by a first class journalist in Nigeria, the one and only Folu Olamiti has reported that no less than 68 Army Generals who were all senior to the newly appointed Fulani-born Major General Farouk Yahaya are now to go involuntarily.
They have had to be forced into retirement by force because of the new Chief of Staff to replace his predecessor who had just died in a plane crash.
General Buhari could care less about the career of those officers who are all senior to General Yahaya because he himself had enjoyed such privileges in his military career.
My grouse here is that the Fulani- dominated Officer Cadre of the Nigerian Military has been repeating this horrendous mistake since October 1st 1960 but expecting a different result.
The Cadre has been insane for as long as we all can remember as I am going to prove with the remaining segments of this write-up.
In July 29, 1966 32 year old Lt. Colonel Yakubu Gowon was picked as a compromise choice to replace General Aguiyi Ironsi as Head of State till 1975.
Many officers Senior to him were forced to either accept the situation or go on retirement. General Ogundipe was one of them. There were others whose names are there in the history books.
In 1975 General Musa Yaradua another Fulani was picked to become number 2 to General Obasanjo using the same logic but more often than not in favor of sacred cows who happen to be Fulani officers.
I am sure the same protocol was observed when the man who died in a plane crash was appointed Chief of Staff.
Most of the officers senior to him who were bypassed have had to either live the deplorable discrimination or retire because they were not Fulanis by birth.
It has happened again with General Yahaya. 68 officers senior to him have had to live with his promotion or retire with immediate effect against their own better judgment.
This development once hit closer to home when the late highly respected Colonel Fayemiwo of Iloko Ijesha a British- trained Accountant who established the Accounts or the Pay and Records Department of the Nigerian Military.
Colonel Fayemiwo was bypassed for promotion so many times by Hausa-Fulani officers on the orders of General Sani Abacha not for incompetence but because he was not a sacred cow and a Fulani man.
You can quote me on that. His son Fayemiwo is today a Major General in the same Department but he could be bypassed tomorrow and be forced to retire like his father simply because he is a very young and able Yoruba officer with the brains and the qualifications to back up his seniority.
Again, I was an Assistant Secretary in charge of the Army in the Army Headquarters in the Republic Building along Marina, Lagos, from 1968 to 1971 so I know what I am talking about.
I am writing about this sad observation 51 years later and the development has gone from bad to worse, if you can believe it. I am mentioning names because I was an eye witness.
So those who are wondering why I am supporting the agitation of Oodua Nation and Biafra and the stand of the Nigerian Indigenous Nationalities Alliance ( NINA) would now clearly understand my position and why I think that nothing is going to change in Nigeria as long as the Fulani Jihadists remain in charge and in power.
You can now go and read the full report on the 68 officers most of them Southern officers who are now going to be booted out or forced to absorb the indignity of now taking orders and standing at attention to throw a salute to their junior in the Army because of their tribe.
If one thinks what I am describing is only happening in the Military, that person is not aware of what has been and is going on in Nigeria. It is also happening in the Federal Civil Service and in all of the Federal Parastatals as we speak and has been for a long time.
I was on my way to being appointed the Deputy MD of Alhaja Steel Complex in Warri in 1985 after a very intensive interview presided over by Mr. Alile who was represented in the final interview by Chief L'uyi Rotimi, the Chief Accountant of the Lagos Stock Exchange. This can be fact checked.
I came first at the interview with 78 out of 100 on the score card. The runner up to me scored 61, despite that, I was overlooked for the position. That was the last straw that broke the Camel's Back for me. I took my decision to check out of Nigeria after that. I have been in the United States ever since.
Guess who got the job. It was a Fulani named Mohammed from Kano who did not attend the interview at all.
Professor Tam David West was the Minister of Mines and Power and the supervising Minister. Mr. M. A. Adeyoju from Ekiti was the Secretary for Mines and Power who oversaw the selection and the interview process and General Ibrahim Badamosi Babangida was the then Head of State.
The Fulanis, like we say in Yoruba language "ti fi iyo wa je Elede Ojo ti pe"
meaning the Fulanis are never going to give up their privileged position and leverage and long-entrenched power in Nigeria. They have been cheating the Southerners for a long time. They are not going to stop now, unless by force, (Not necessarily through war).
Anybody expecting that to happen without a 'fight' does not fully understand Human Psychology and Human Behavior in the Social Environment.
If you doubt what I am talking about, the Israeli-Palestinian conflict is there and the despotic leaders across the world are there as examples.
The Yorubas must stick to our guns and not relent. "To your tents O Israel"
"Ule ti Ya Onibode Apomu" It is forward ever and backwards never!
I rest my case.
Dr. Wumi Akintide
New York
SUBSCRIDE TO OUR NEWSLETTER