by Ayo Dada
On May 12, Sahara Reporters reported that Buhari's Dementia has Worsened, that the President Fumbles For Words, Goes Off-Key During Security Chiefs, EU Delegation Meetings. Their report claimed that Buhari's worsening dementia and other undisclosed health challenges are taking their toll on his ability to effectively coordinate meetings.
On April 14, 2021, while he was in London, Point Blank News reported that General Buhari was battling kidney problems, Dementia, Alzheimer, and may be flown to Saudi Arabia as protesters frustrated his medical vacation.
On March 5, 2021, Malcom Omirhobo, a lawyer and activist posted on YouTube and said that the President, Major General Muhammadu Buhari (rtd) is suffering from acute dementia.
On December 15, 2020, Kemi Olunloyo, posted on Kemitalks that Nigerians should pray for the President because he is suffering from Dementia.
On January 17,2019, Farook Perogi, wrote on his twitter handle and I quote, "Buhari's Dementia is Now a National Emergency–A THREAD On Nov. 23, 2018, I tweeted that a doctor who has met Buhari told me that Buhari shows tell-tale symptoms of dementia (of which Alzheimer's disease is a type), which is characterized by repetitiveness, unawareness", "mental deterioration, impaired memory, diminished quality of thought, slurred speech, and finally complete helplessness. A non-medical person whose dad has dementia and who has met Buhari in the recent past had earlier told me Buhari's dementia was worse than her dad's was".
Farook continued, that, "She was concerned that Nigeria had no president. She's right. Buhari barely has any awareness of his existence, much less the requirements of being president. For instance, he has signed several documents he would never have signed if he were mentally alert".
On February 15, 2019, it was published in Sahara Reporters that according to the report, "Mr Buhari is allegedly suffering from prostrate cancer, dementia, Crohn's disease and sickle cell anaemia".
On July 28, 2018, it was reported in Nairaland that General Buhari was suffering from Dementia and may die of complications.
The above are some of the reports, rumours and allegations surrounding the health of the president regarding his state of mind and memory. While I do not wish the president ill health or any evil on him, if true, he has to do the needful and honorable thing and resign to go and take care of himself, away from the public eye.
The saying goes that their is no smoke without fire.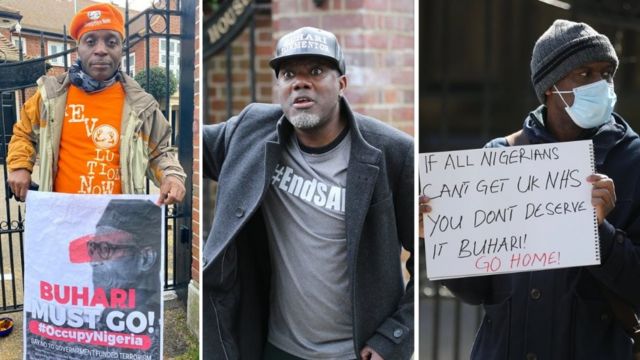 As we all know, this disease is only going to get progressively worse. That's most likely why General Buhari had been hidden from the public for long and is now rarely seen. And that is most likely why he seldom appears on TV, or in public to address Nigerians, or hold interviews on highly important issues that adversely, and or positively affect the nation.
The cabal, the people who are bent on imposing Buhari on Nigeria, the ethnic jingoists, the Fulani agendists, almost certainly know that the president is in a mental vegetative state but don't want the world to know about this and keeping it from Nigerians.
This, if true, is a great disservice to Nigeria, Nigeria is too big and too complex for a healthy leader to lead, not to talk of someone who appears to be no longer mentally fit to govern the country.
ALSO READ
Any kind of denial is no longer good enough for the absence of Buhari in public arena, addressing and discussing issues of national importance.
Statements from the Femi Adesinas, the Garba Shehus, and the Lai Mohammeds no longer wash with Nigerians. The one and only option left to convince Nigerians otherwise is to hold a one hour, or 30 minutes long town hall event with Nigerians, or a press conference with journalists, at the president's choice of location.
It is beyond human comprehension that a healthy president would not have paid condolence visits, at least to some victims of terrorism in the northern parts of Nigeria where they are hit the most, a healthy president who would not have fired Pantami after all the revelations of his views about terrorism, a healthy president who would be quiet on the issues of secession that has engulfed the country.
The ball is in the presidents court to prove to Nigerians that he is well and mentally fit to perform the duties of his office and not for Nigerians to prove that he is not.
May God bless Nigeria.