by Ayo Dada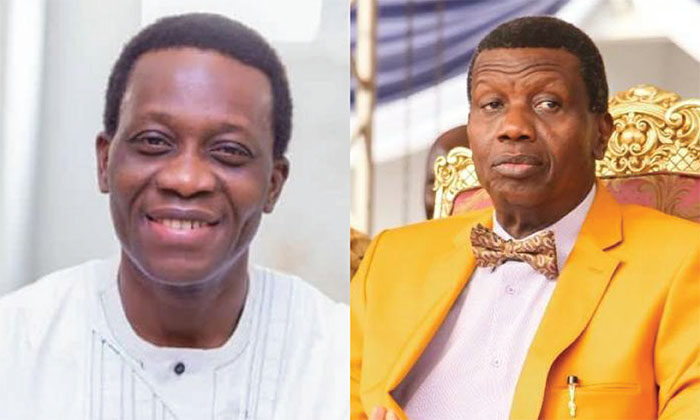 On behalf of all Yoruba people and Sunday Adeyemo A.K.A Sunday Igboho, I apologize to the revered Pastor E. A. Adeboye for the comments Igboho made regarding the passing on to glory of his son, Pastor Dare Adeboye on a live Facebook video interview. (baba wa, omode ko le mo eko je ko ma ra l'owo), a child must make a mess of his fingers and palms while eating solid palp. It was in his passion in defense of his people that he misspoke. Baba, please sir, forgive him. Long may you live and lead us in Jesus' name. Sir, never again will you bury any of your children, and, or grandchildren till you go to meet your maker, which by God's grace is not anytime soon. E pe fun wa daddy. (You will live long for us daddy)
So, to Sunday Igboho's detractors that have been waiting for him to make blunders so that they can unleash their venom and propaganda on him, I am certain that baba Adeboye being a man of God that he is, has forgiven Sunday. We also know that baba Adeboye is one of the strong supporters of the cause of Yoruba people where equity, justice and liberation are concerned.
Now to you, chief Sunday Igboho, henceforth, I want to appeal to you to watch what you say, especially when it's regarding our elders and traditional rulers, even if you do not agree with them. You have a lot of support and goodwill from the majority of Yoruba people and you do not want to throw that away with reckless talks. (Gbogbo aso ko ni a nsa ni oorun) It's not every cloth that we hang oustside to dry. (Abo oro ni a nso fun omoluabi, ti o ba de inu e, a di odindi) A word is enough for the wise.
This issue also gives me the opportunity to inject that, very often, people focus on Igboho's bluntness for calling out our revered leaders, traditional, political, and religious, for their silence or timidity, on the failed unitary federalism government in the country.
Methinks the bluntness is long overdue and welcome addition to the conversation, but with thoughtfulness, care, and in moderation.
For long, our revered leaders have been tacitly supporting the status quo, taking advantage of their social-cultural position to curry favors from the government in power, and live large without caring for their subjects, constituent, or congregation they rule and serve; emphasis on SERVE.
"As it was during slave trade, so it still is today. I often wonder, if there had been an Igboho type revolutionary at the beginning of slave trade, who had mobilized the people to fight against all traditional rulers collaborating with foreign slave traders and effectively stopped the enslavement of Yorubas, making Yoruba nation free from slavery, I am not sure today, we would blame him for his uncouth language or violent method". (A quote from one of the social media groups I belong to)
I don't expect Igboho to get it right 100%. I think the Igboho phenomenon, his revolutionary model is the natural end result of failure of the evolutionary approach that most people would have preferred. The Yorubas must be careful not to throw away the baby with the bath water and continue to support Igboho.
Yes, his choice of words may be uncouth, but to paraphrase the Bishop of Hippo Regius, (354-430), a wooden key that can unlock a door ought to be preferable to a golden key that cannot, seeing that the sole reason for having a key is to unlock a door.
I would take that wooden key any day any time.
One would agree that the Kanus, and the Igbohos of this world are products of the corruption and injustice of our nation, but Sunday Igboho must be very careful so that it does not appear that he is forcing his personal ambition cum approach to achieving it on the generality of the people like he appears to be doing now. There is no legal or moral right that is injured if someone refuses to comment or act in a situation like we find ourselves in Yorubaland.
Igboho must know that a large number of Yoruba people support his cause and that he may need to earn the support of the baba Adeboyes, Onirisa, and others to have, and or show their duty of care to his cause, to publicly back him; 'publicly', I repeat because I know they are behind him already. Mr. Igboho must realize now that his words matter and must watch what he says and how he says them.
To the Yoruba people, we must forgive Igboho and not vilify, and or try to destroy his mission, they must remember that his mission is to fight for their liberation, their cause, and not his, therefore, he must not be left on his own. He should be supported and guided whenever he makes a mistake, which he is bound to make because of his passion.
Mr. Igboho must render an appropriate apology, one without reservations to baba Adeboye and request that he forgives and blesses him.
May God heal our land. Amen