by Biodun Aiyegbusi
Some thought and said we were out of it. The nay sayers thought because Arsenal couldn't do it in 90, they wouldn't be able to do in 180 but the tie was effectively settled by the 135th minute . Arsenal's complacency in the first leg actually gave people room to think and say all the negatives though. I knew Arsenal could pull the chestnut out of the fire but I never expected the annihilation.
Arsenal seem to thrive when they are under immense pressure, when their backs are against the wall, they come back roaring and fighting. This is good but consistency is better. The point is they could as well have sealed a berth in the Europa semis after that first leg encounter at the Emirates. That lapse takes nothing away however, from the majestic , commanding and assured performance Thursday evening.
At the Sinobo stadium in Prague, the "we have not lost a match in 2 years Slavia Praha" was pole axed by the end of the first half. You could see the shock on their faces…"e shock dem". They didn't know what hit them……."abi no be the same Arsenal wey we draw with at home?". (is this not the same Arsenal?) It was the same Arsenal, the attitude and spirit on the night was just different. "We are not Leicester or Glasgow Rangers, we are the Arsenal".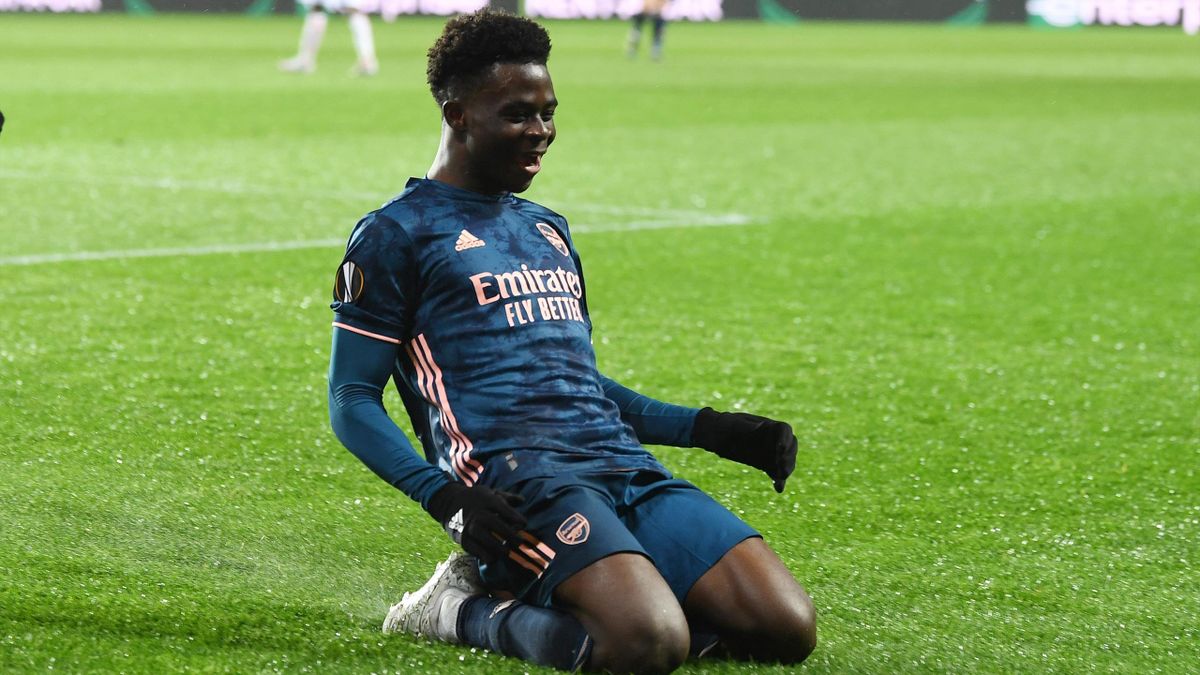 First of all, they were playing without a foot on the brakes, with no inhibitions, no attempt to keep things tidy with some sterile possession and favourable stats. Let them have the ball, they counter and make them count. And count they did, from Emile Smith Row's disallowed goal, to Pepe's opener, to Laccazzette's penalty, to Saka's third it was "football gbasgbosnization", well conceived and executed. Arsenal had about 30% possession, 6 attempts, 5 on target, 3 goals……..away, in what was supposed to be a dicey game. Arsenal were not only throwing the dice, the gods of football were giving us double 6. If Arsenal add ESR's disallowed goal and Martinelli's miss, it could have been six.
It was 0-3 at the interval. The second 45 was about game management and topping the scores with another well constructed and executed team move by Laccazzette, Captain on the night. Well done sir…..you led and did well.
Kudos to everyone who started the game and the many subs used. Even Folarin Balogun was given a "don't worry, your time will soon come" run out. It was a magnificent team performance, everyone doing more than enough to keep things tidy and victory assured. Chambers, Pablo Mari, Xhaka at left back, even Ceballos pairing Partey, all had above 7 in the ratings. The Hale End boys Saka, ESR with their intensity and competitiveness as high as ever, popping up all over the pitch overwhelming the Slavia crew.
It was a great evening where we saw, once again, the latent potentials of the Arsenal squad. They need to attain some level of consistency, that's what the gaffer has to work on. How they can be at that level, without dropping, all the time? Playing without shackles, with the intensity, competitiveness and professionalism required. If Arsenal achieve that, they will shock many of the everyone including the naysayers.
So on to the Europa semis they march but before then, they must take care of the "Fulhams" of this world, no disrespect to Fulham. They must remember that relegation battling teams are like sinking swimmers, clutching and trying to drag down any available straw, Arsenal must not be fodder for their struggles.
Kudos to our able warriors….that was very well done. Thank you and let's do more.