by Ayo Dada
Mr. Adesina, in your failed attempt to launder the image of your master, General Buhari, you stated and I quote, "Our country is at war today on many fronts. Nigeria battles insurgency, terrorism, banditry, kidnappings, armed robbery, cult killings, ritual murders, and war of tongues." You stated rightly that the war of tongues (Ogun Enu in Yoruba) is the deadliest of all wars and then moaned about how "A war of tongues has been unleashed on Nigeria, her leadership, anyone in government, in fact anybody serving the country in one capacity or the other, no one is spared. You want to become an enemy of the public? Then just take a position in government, major or minor," you lamented.
By your statement above, you agree that Nigeria has many serious problems, most of which are self caused, but you conveniently overlooked what led Nigeria to where she is today under general Buhari and why.
You could not deny that the government has failed Nigeria woefully on many issues among which is that of SECURITY/INSECURITY of Nigerians. You omitted the 'sidon look' attitude/mode of your "commander in chief" to the herdsmen bloodlettings in the south.
You failed to address the worsening economic problems Nigerians face on a daily basis caused by the policies of General Buhari's government.
You omitted the issues of unemployed that is plaguing the land affecting millions of our youths.
You omitted the Nepotism with impunity of General Buhari's federal appointments and more.
"And who are the warriors?" You questioned; and answered "The so-called social activists and commentators. Newspaper columnists. Talk show hosts on TV, radio, influencers on social media, bloggers, anyone who can afford an Internet-enabled smartphone, politicians, and very embarrassingly, clergymen. The ones who should teach us to bridle our tongues. They say things that make the flesh tingle, with a chill running down the spine. No grace, no decorum, using words that are not seasoned with salt. Do they read another Holy Bible? Another Holy Quran? Holy Moses!" you exclaimed.
You Mr. Adesina, just as you are expressing your frustrations about the truth, so are those Nigerians venting their frustrations and anger about an incompetent and carefree government towards her constituents, the Nigerian people.
Those you have accused of waging a war of tongue on Buhari and every government official are all patriotic and highly concerned Nigerians, much more patriotic than any government official that I and many people in Nigeria know, certainly much more than the nepotic president at the villa.
Or could it also be that you are not happy that the government can no longer control their narrative of lies, deception and propaganda? You are taking on anyone who dare speak their mind about the incompetent government. You even attacked those with internet enabled smart phones… I laf in pronoun.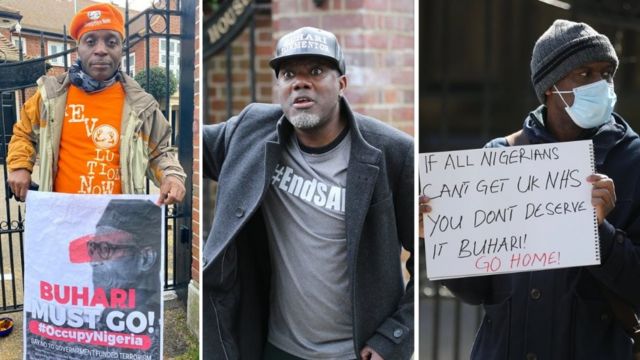 Hear Mr. Adesina o my people: "President Buhari left these shores on March 30 for "routine" medical checkups. Mark the word: routine. Did you hear all the ululation that attended the announcement and the trip? War of tongues: oh, he's sick again (as if there's anyone who's 100% healthy. If there is, let's see the person). Resident doctors are going on strike, the President is traveling! Couldn't he have built world class hospitals in Nigeria within the six years he has been in government? He's going on medical tourism again! How much is the trip costing us o? Are we sure he will come back anytime soon?"
Shouldn't you be ashamed that a "ROUTINE" medical check up cannot be done in Nigeria; are you for real? When one thinks that the Nigerian leadership cannot go lower, then a Mr. Adesina pops his head! O ga o!
Mr. Adesina continued his rants, he wrote; "To take it to very ridiculous level, some Nigerians in London organized a 'one million man march' (attended by a huge crowd of five people), went to the Nigeria House where they said the President was staying, and attempted to "force him back home." People in the gall of bitterness, overtaken by paroxysms of hatred." Really? It is the president that is showing hatred by his actions/inactions to the plight of Nigerians.
You continued, "The executive, legislature, judiciary, military, police, indeed, all national institutions are the butt of war of tongues. You find all sorts of commentators in the media condemning everything and everybody, but themselves. In their lives, they have probably never been a class monitor, not to talk of school prefect." I am sure that many of these people will be a better president and by the way, why should they blame themselves? Are they in government? Are they policy makers? Are they Law makers? Are they wrong to ask questions of those that they elected to serve them, that are paid by their tax monies? I laf in Igbo this time.
Mr. Adesina, I am sure you are filled with regrets for this botched attempt to spin the obvious in you and your masters favour, if not, you need to be fired because of how bad a job you made of it. Don't you think that it would have been better for you to have kept your mouth shut, in this instance, to keep your fingers in your pockets other than on a computer keyboard. You've just made a fool of yourself with this your outburst/outrage.
If you want to be taken seriously and earn some of your respect back, can you in good or bad conscience defend why all these moans and groans in your rant are right? You cannot because you could and did not. You cannot defend them because deep down in your heart of hearts, you know that all those in your crosshairs are right.
We have a failed government that cannot build world class hospitals, that cannot fix our power generation, that cannot build modern and up to date schools, that cannot secure the lives and properties of Nigerians, that cannot build new refineries, that is highly nepotic, that cannot provide employments to the millions of Nigerian youths, that cannot fight fraud and the list is endless; in short Nigeria has no government!
Mr. Adesina, may God Almighty forgive you for touching his annointed, "clergymen", and May Allah forgive you for your out of this world hypocrisy.
Amen.